New Tadano for Metallbau Nottrott
By Laura Hatton18 February 2015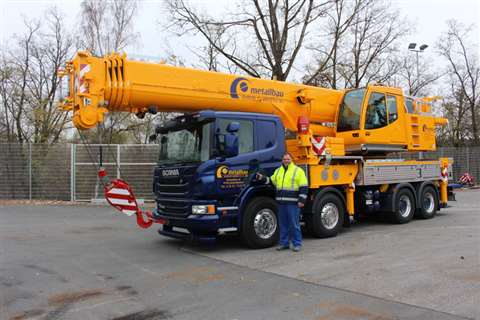 Crane service provider Metallbau Nottrott in Germany has taken delivery of a 65 tonne capacity Tadano HK 65 truck mounted crane on a Scania carrier.
The new crane was delivered in Lauf, Pegnitz, Germany late 2014. It is fitted on a Scania chassis and has a 65 tonne capacity, maximum 41 metre boom and additional boom extemsions up to 15.8 m. It has a maximum working radius of 46 m.
The first task for the HK 65 was installing steel for a new industrial bakery factory in Eisleben. In total, 600 tonnes of steel was lifted onto the factory.
Maik Nottrott, Metallbau Nottrott managing director, said, "Within six years, we did not have a single problem with the predecessor of the HK 65. Given the further development of technology, we are sure that we can also expect this high degree of reliability in the future."