New tracked excavator range from Develon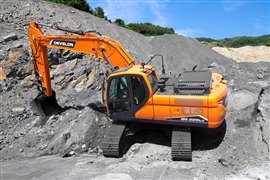 Develon, formerly Doosan Construction Equipment, has completed the launch of 19 models as part of the company's latest generation 'DX-7M' range of tracked excavators ranging from 2-53 tonnes for Tier 2 and Tier 3 markets worldwide of Asia, Oceania, South America, the Middle East and Africa.
The OEM says that the new excavators are designed for a wide range of markets from construction, rental, recycling, waste processing and utilities to mining and quarrying.
The smallest model in the range is the 2.8 tonne DX27Z-7M 2.8 mini-excavator, and the largest is the 53 tonne DX530LC(A)-7M. The OEM says that all models all offer "significantly improved performance" compared to the previous generation machines due to  enhancements such as more powerful engines and new higher flow hydraulic systems.
The DX200A-7M 20 t excavator and all the larger excavators from the DX300LC(A)-7M upwards incorporate Develon's Virtual Bleed Off (VBO) technology.
The VBO system utilises an electronic pressure-controlled pump within a closed centre hydraulic system for productivity increases of up to 17% and fuel efficiency improvements of up to 32%, depending on the model and the mode selected. The closed centred main control valve minimises pressure loss, while the electronic pressure-controlled pump manages and optimises engine power more effectively. 
The new excavator range are all equiped as standard with the latest version 3.0 of the Develon Fleet Management system, which provides a telematics management system by collecting data from sensors on the machines.