New tri-axle Nooteboom plant trailer
By Alex Dahm05 January 2023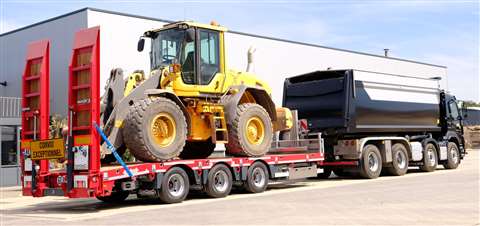 Manufacturer Nooteboom has launched a 3-axle drawbar trailer with centre axles and air suspension.
The Dutch manufacturer's new ASDS-33-03(EB) is for transporting smaller and medium-sized construction equipment and similar machines. This type of trailer is most often used in France, Belgium and Scandinavia.
It is a compact tridem trailer based on the concept of the OSDS semi low loader from the company's SMART range. High strength but with light weight were two of the design aims. Dead weight is 6.7 tonnes, including a pair of 3 metre hydraulic ramps.
Payload at low speed is 33 tonnes, while at 90 km/h it can carry 25.8 tonnes. High loads can be accommodated because the deck height is 860 mm.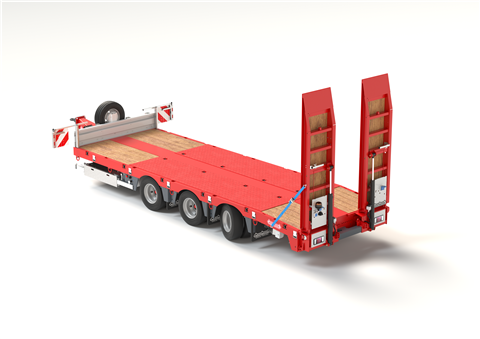 Improving manoeuvrability
Accessing and manoeuvring on site is made easier by the new trailer's self steering rear axle and the compact overall dimensions. Reversing is made easier by the automatic locking of the steering axle. Its air suspension gives a better ride and has a stroke of 200 mm.
To help load long machines or ones with low ground clearance there is a long rear beaver tail and the long hydraulic ramps. Further options on the ramps include hydraulic spacing adjustment for width and a radio remote control.
Drawbar options are to have different lengths, at either 1,750 or 2,000 mm. Interchangeable towing eyes allow use in different countries and are available in diameters of 50, 57.5 and 68 mm. Attachment to the drawbar can be set at one of four height positions, between 825 and 975 mm.
Further options include a removable headboard, lift axle, extra width, stake pockets and underfloor storage racks.