New wheeled loaders from John Deere
By Andy Brown10 January 2019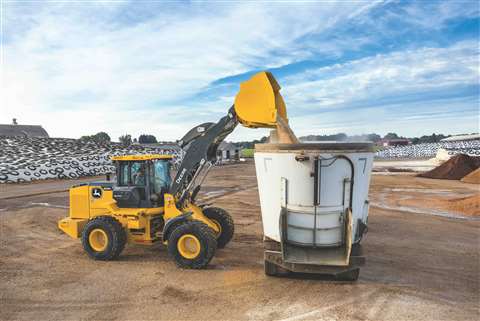 Original equipment manufacturer John Deere has launched three new L-Series utility wheeled loaders, the 524L, 544L and 624L.
The L-Series machines are said to incorporate several new features, including improved cabs, electrohydraulic (EH) loader controls for easier operation and redesigned near-parallel linkage, and enhanced performance buckets.
"Our next generation of wheel loaders improves upon the legacy of the John Deere wheel loader line," said Chris Cline, product marketing manager for utility wheel loaders, John Deere Construction & Forestry.
Behind the wheel, EH loader controls with integrated third and fourth function auxiliary hydraulics are said to provide faster cycle times, resulting in more material moved in shorter periods of time. Two multifunction buttons integrated into the hydraulic controls allow the operator to assign a function to each button, improving operability and productivity.
Improvements have also been made to the boom structure, with the design said to increase visibility to the coupler, bucket or forks. Additional bucket options include enhanced production buckets with integrated spill guards, profiled side cutters and greater rollback, improving bucket fill and material retention.
The 544L will be on display at World of Concrete in Las Vegas, US, alongside a JD544, built in December 1968, to commemorate 50 years of John Deere building wheel loaders. Throughout 2019, all new manufactured wheel loaders will showcase a 50-year anniversary emblem to signify this milestone.