New Wolff 6020 flat top tower
By Alex Dahm21 August 2017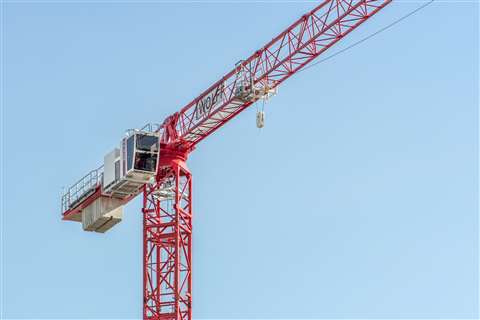 Wolff 6020 clear from Wolffkran
Manufacturer Wolffkran has announced a new replacement flat top tower crane model in the 140 tonne-metre class.
The Wolff 6020 clear replaces the 6015 clear launched in 2008. It has a bigger tip load and incorporates design detail improvements from other recent new models, according to Wolffkran. Availability is from September.
Two versions are available, the 6 tonne capacity 6020.6 clear and the 8 tonne 6020.8 clear. Each has three tower crane connection options. These are the 1.5 x 1.5 metre UV 15 or the 2 metre TFS20 or UV 20.
Gerd Tiedtke, Wolffkran product manager, commented, "Compared to its predecessor the 6 tonne version can lift 2 tonnes instead of 1.5 tonnes at the tip at a 60 metre jib radius, while the tip load capacity of the 8 tonne version was increased from 1.5 tonnes to 1.8 tonnes."
Both models are designed for two-fall rope operation. On the 6 tonner a new 28 kW hoist winch, type Hw 628.1 FU, shortens cycle times with its 108 m/min hoisting speed under partial load. A 45 kW Hw 845 FU hoisting winch is fitted on the 8 tonne version.
Changing some elements of the design has allowed smaller bolts to be used which means faster and easier assembly. Counterweight slabs are no longer supplied with the basic crane so that any suitable existing ones can be used.
For easier transport there is a special support to hold up to three jib sections on the counter jib. To help better protect the crane against corrosion there are more galvanised parts than on the preceding model, including railings, platforms and covers.