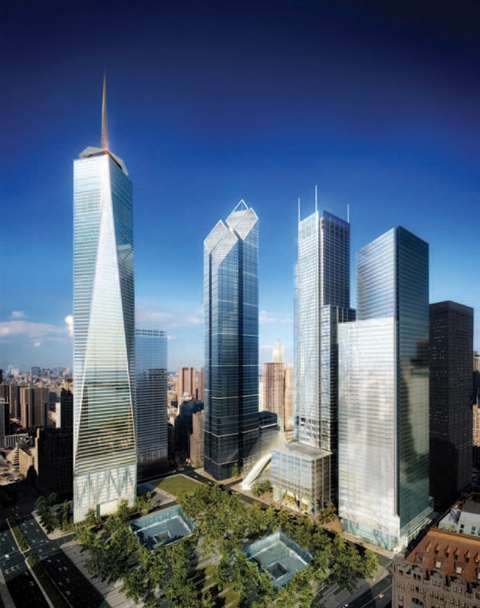 Silverstein Properties Inc has unveiled images of the three towers that will complete the redevelopment of the World Trade Centre (WTC) site in, New York, US.
Foster and Partners (UK), Richard Rogers Partnership (UK) and Fumihiko Maki and Maki Associates (Japan) have designed the three towers, which will form a curve next to the memorial to the victims of the 11 September attacks and the proposed 541 m high Freedom Tower. Part of architect Daniel Libeskind's master plan for the 6.5 ha WTC site, the towers will contain a total of 620000 m2 of office space and share a common podium and foundations.
Foster and Partners' 200 Greenwich Street, Tower 2 will be a 78 storey, 382 m high tower containing 13300 m2 of shops, 60 office floors covering 214000 m2, four trading floors and a 20 m high office lobby. The Richard Rogers Partnership's 71 storey, 175 Greenwich Street, Tower 3 will be 352 m high. It will include 12400 m2 of shops, 54 office floors covering 195000 m2 and five trading floors. The 61-story 150 Greenwich Street, Tower 4, designed by Fumihiko Maki and Maki and Associates will be 289 m tall high with 53 office floors covering 167300 m2 and five retail floors.