New Zealand to build prefabricated base in Antarctica
By Catrin Jones09 March 2023
Antarctica New Zealand and Leighs Construction Ltd are partnering with heavy lifting and transport company Mammoet to redevelop its Antartic research base with three prefabricated buildings in January 2027.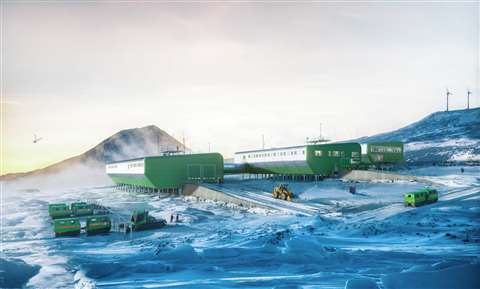 Global logistics company BigLift Shipping will sail the prefabricated base from PrimePort Timaru, New Zealand to Pram Point, Ross Island, located in New Zealand's segment of Antarctica. 
Construction will begin at PrimePort Timaru mid-2023, allowing three and a half years to build, test and commission the new base before its journey south. 
Mammoet's self-propelled modular transporters (SPMTs) will move the new base onto the ship in Timaru and off again in Antarctica.
The three interconnected buildings will then be separated into eight modules (each about 800 metric tonnes), sealed, and welded onto the vessel for the journey. The 20,675mt,173m vessel will bypass the usual offload point at the United States' McMurdo Station and sail directly to Pram Point, where Scott Base is situated.
Mammoet Global Segment Lead of Transport and Logistics Reinder de Haan says the installation method is as robust as possible, with the highest priority given to safety and operational redundancy.
He adds, "The versatile SPMT's have tremendous power, yet can be manoeuvred with millimetre precision so that each section of the new station will be perfectly aligned when we set it down."