Next generation 694+ for Terex Finlay
Terex Finlay's next generation 694+ inclined screen has been developed to fulfill the demands of high output producers.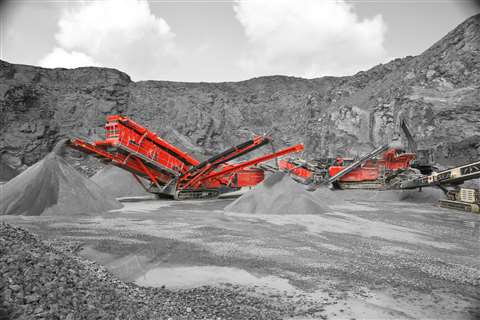 The new high energy screenbox features three full size 6.1 x 1.53 m (20 x 5 ft) decks that can process fine, sticky and dirty material with ease in quarrying, sand and gravel, coal, woodchip and topsoil applications.
In addition, the large hopper/feeder is fitted with variable speed belt feeder to ensure consistent flow of material and can be fitted with remote tipping grid or double deck vibrating grid.
The hydraulics system has been upgraded to provide the optimum balance of power and efficiency and the powerpack designed to operate at lower engine speeds to raise cost-efficiency in the long term without compromising on performance. Hybrid powerpack is available as an option.
Key features are:
Simplified and reconfigured folding mechanism for the onboard product conveyors for ease of deployment and user-friendly operation.
Hydraulic folding catwalks as standard for improved onsite efficiency and to enable rapid screenbox deployment.
Maximum utilisation of three 6.1 x 1.53 m decks provide ultra-efficient screening capacities even at small aggregate sizes.
The fourth (oversize plus) conveyor provides variable tilt and side slew capability to accurately discharge materials for re-circulation to crushers or for stockpiling.
Screen box angle can be hydraulically adjusted to between 18 and 32°.
T-Link telematics hardware and software along with free seven-year data subscription are fitted and installed as standard.