Next generation construction from Mace
By Joe Sargent05 December 2019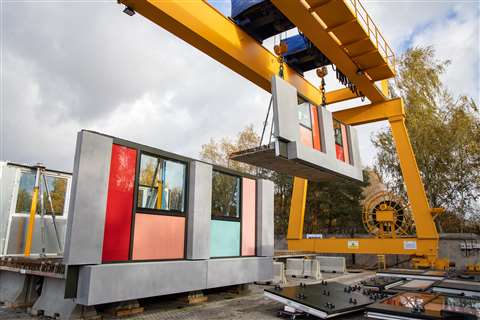 Construction consultancy firm Mace has launched a next generation construction method known as High Rise Solutions (HRS) that it said will transform the way building work is conducted in the UK.
Mace says the system enables the construction of one storey every 55 hours and combines the latest advances in digital technology with a new offsite manufacturing approach to construct buildings faster, safer and, according to the Mace, to a consistently higher quality.
Using parametric modelling tools and artificial intelligence, HRS is able to draw from a catalogue of components to design and manufacture the structure and façade sub-assemblies offsite.
Mace Tech has said that through its new system of building, the construction programme can be shortened by 18 weeks, with 20% fewer workers on site compared with a traditional building approach.
The technology promises to reduce the time spent on design and construction programmes by 25%, vehicle movements by 40% and waste by 70%.
Mace says that, with HRS, clients will be able to reduce their finance cost and homes can be delivered quicker with minimal disruption to local communities.
On Thursday 5 December, a launch event and live onsite demonstration were held at residential firm Get Living's homes project in N06 East Village in Stratford.
Mace says traditional site activities are switched to an assembly process, with modules installed concurrently with bathroom pods, utility cupboards and MEP service modules, reducing programme times by up to six times compared with current industry performance.
Following a pilot of the system trialled at a major London construction project, the HRS system is now being used to construct N06, a build to rent scheme in East Village, the former London 2012 Athletes' Village, being built by Mace on behalf of Get Living. Split across two towers of 26 and 31 stories, the project will deliver 524 new homes.
At the time of writing, four floors were built across each of the project's two towers.
Mark Reynolds, chief executive of Mace, said, "The launch of Mace Tech marks an important milestone, not only for Mace but for the industry. Unless we radically rethink how we build, we will never be able to deliver the housing and infrastructure that is desperately needed across the UK while reducing our carbon footprint."