Next generation turbochargers from Cummins
By Sandy Guthrie05 February 2014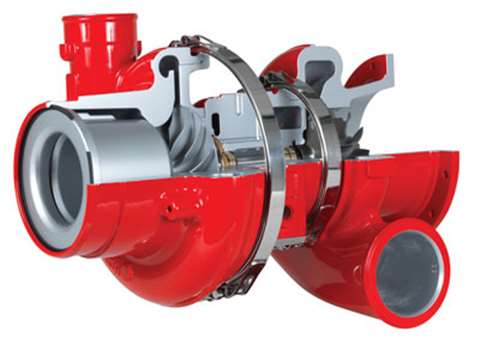 ConExpo will be the event where Cummins Turbo Technologies reveals a new addition to its existing range of large turbochargers for 16 litres and above engines.
The company is claiming that they will be the most efficient turbochargers in this range, with new technologies capable of improving overall turbocharger efficiency of a typical application by up to 10%.
Last year, it unveiled a range of products for the off-highway market at the Bauma show.
The Series 900, to be seen for the first time at ConExpo, is said to feature robust and durable technologies that will be suitable for applications from 400 to 6,400 hp (294 to 4,707 kW).
The company's executive director for product line management and marketing, Mark Firth, said, "Our Holset turbochargers are the component of choice for many international off-highway customers.
"We don't believe in off-the-shelf products. We understand that downtime is a prime concern for this sector and work in partnership with our customers to develop advanced technological solutions that are fit for market."
He said the research and development of the Series 900 had allowed the company to take the advances offered by this turbocharger and "drive them across the already robust and flexible product range, Series 800 and Series 1000, to create the most efficient and diverse turbochargers we have ever produced for the 16 litre and above engine range".
Jonathan Wood, executive director – engineering, said that the Series 900 would be available from mid-2015. He said they would provide power and fuel economy.
"They are compact compared to others in the field. It is a flexible and interchangeable package, with the same connection points. The shape has been optimised, and the thickness of the blade and the blade shape have been optimised – a small change, but significant."
Cummins Turbo Technologies will also be unveiling plans for investment in future technology solutions for the range to improve fuel efficiency. Cummins Turbo Technologies said the shift in focus to prioritise fuel economy highlighted its belief that the industry has now reached the tipping-point at which global engine and equipment manufacturers were developing products designed to insulate customers from rising fuel prices.