Nicolas transport for Airbus
By Laura Hatton23 May 2014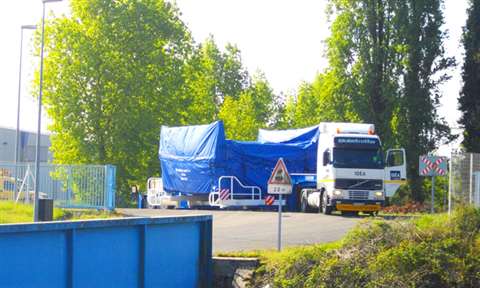 Components from an A 330/340, A 350 and A380 Airbus airliners were moved with help from an MDEL type specialized trailer from manufacturer Nicolas.
The components, including 12 tonne wing sections measuring 8 x 8 metres, were transported from Nantes to St Nazaire in France.
The MDEL has a 20 tonne axle load capacity, 680 mm of axle compensation and a maximum steering angle of 60 degrees. To ensure even load distribution, an adaptable vehicle body was used. On arrival in St Nazaire, the components were move using a roll-on roll-off procedure.
Sebastien Porteu, Nicolas managing director, said, "The fact that the fourth MDEL is now in service at Airbus, speaks volumes for the excellent product quality. We have accomplished a great deal in recent years and a lot of production processes, quality management and customer service have been completely restructured."