Nifty lifts the festive spirit
By Euan Youdale21 December 2016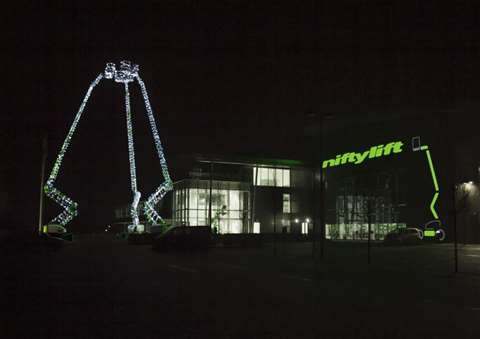 UK-based Niftylift has been turning heads with its unique take on the traditional Christmas tree this season.
Niftylift's 'tree' is made from three Height Rider 28* (HR28) Hybrid work platforms that have been wrapped in Christmas lights, and at 28m tall at their full height, it could be one of the tallest Christmas trees in the UK, believes Niftylift.
The HR28 Hybrid is a self propelled platform with a 280kg basket capacity that offers a working height of 28m or an unrestricted working outreach of 19m. Niftylift's festive tree is situated at its new world headquarters in Shenley Wood, Milton Keynes.
Roger Bowden, Niftylift's founder and chairman said, "Our new Shenley Wood headquarters heralds our commitment to remain securely rooted in the United Kingdom, providing new employment opportunities as we continue to grow as a successful and sustainable British manufacturing company. We hope that everyone enjoys our Christmas tree and wish them all a very Merry Christmas from everyone at Niftylift."