Nightsearcher launches portable LED floodlight system
By Helen Wright24 June 2014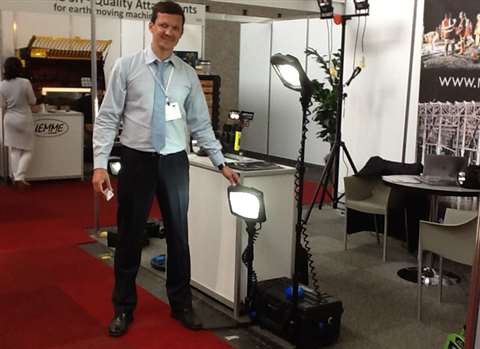 Visitors to the International Rental Exhibition (IRE) can have a first look at Nightsearcher's latest product, the Solaris Duo LED floodlight system.
As its name suggests, Solaris Duo features two lamps that can fold back into a single case. Offering an output of up to 28000 lumens, the floodlights are mounted on four-section extendable masts that can reach up to 1800mm.
All the Solaris Duo components are housed in a robust plastic case, and when boxed it weighs 17.3kg. The case has wheels and a pull-up handle for easy transportation. The telescopic masts also have built-in stability legs.
Nightsearcher export sales manager Andrew Sanczuk said the company currently mainly sold its lighting products to rental companies in the UK, but was looking for international business at IRE.
"There is no other exhibition specifically profiled at the rental sector," Mr Sanczuk said. "We think rental companies will be impressed with the Solaris Duo. It features a lithium ion battery that can run for up to 100 hours, and the LED bulbs last for 50000 hours."
IRE takes place at the Amsterdam RAI venue in the Netherlands on 24-26 June, 2014.The APEX access platform exhibition takes place in separate halls at the same venue over the same three days, as does the European Rental Association Convention.