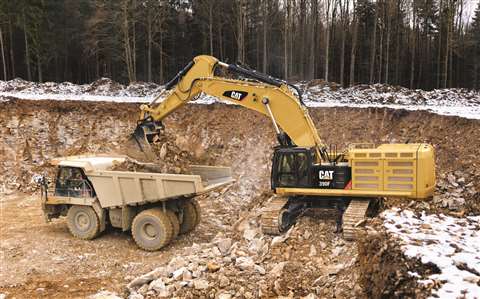 The North American construction equipment market has seen a remarkable turnaround from the dark days of the global economic crisis in 2009, when sales in the US and Canada bottomed-out at 77,430 units. There has been strong growth in demand from this low point to a recent high of 171,950 machines sold in 2015.
However, there was a dip last year when retail sales lurched down by some 8% to 157,375 units. After such a prolonged period of growth some sort of correction is always to be expected.
The election of Donald Trump and his promises of investment in infrastructure has given the sector a psychological lift, which has been reflected in major manufacturers' share prices. At the time of writing, Caterpillar, for example, is enjoying its highest share price for more than two years.
In addition, the fundamental drivers of construction equipment sales remain positive. According to the US Census Bureau, the value of construction put in place in the US grew 4.1% for the 12 months to the end of November 2015, the most recent data available. Private construction, which makes up some 75% of the total, is growing faster than publicly-funded schemes, and within this, the non-residential sector looks stronger than residential building. In addition, the value of the US construction market is at a high level – close to the pre-crisis peak of US$ 1.16 trillion, seen in 2005.
Return to growth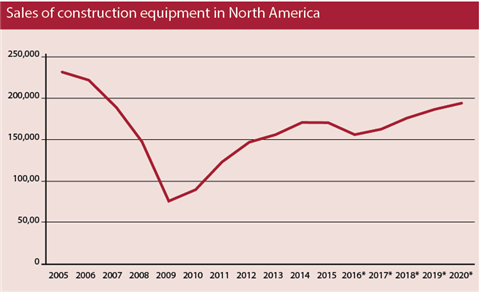 On this basis, Off-Highway Research expects growth to resume in the North American equipment market this year. Sales are expected to rise to some 195,000 units by 2020 – a significant volume, but still below the peak of 232,105 machines sold in 2005.
In terms of equipment types, machines like crawler excavators and wheeled loaders, which are popular the world over, sell in high numbers in North America and accounted for just shy of 30% of total equipment sales in unit terms last year.
And like other markets around the world, North America has its quirks too. First, skid steer loaders are enormously popular in the region. Sales in of this type of machine in North America account for 80% of the entire global demand for skid-steer loaders, with sales last year coming to around 33,000 units in the US and Canada.
The market for skid-steer loaders has been much higher in the past – the peak year was 2000, when 73,000 such machines were sold. Demand has more than halved in the intervening years, but the overall equipment market is of a similar size, which suggests a sharp decline in popularity. This is because of the emergence of compact tracked loaders over the last 10-15 years, which have replaced skid steer loaders in many applications. Overall, skid-steer and compact tracked loaders represent a similar proportion of the market today to that of skid steer loaders alone back in the early 2000s and before.
Perennial favourites
Another feature of the North American market is that backhoe loaders remain reasonably popular, compared to the sharp decline in sales which has been seen in Europe in the last decade. However, there is some evidence that North America is following a similar path to Europe, with buyers increasingly leaning towards compact excavators over backhoe loaders.
Other high volume products in the North American market include telescopic handlers, and the region is also a significant market for earthmoving equipment such as articulated haulers, dozers and graders.