Northvolt secures €890 million for battery Gigafactory
By Joe Sargent14 June 2019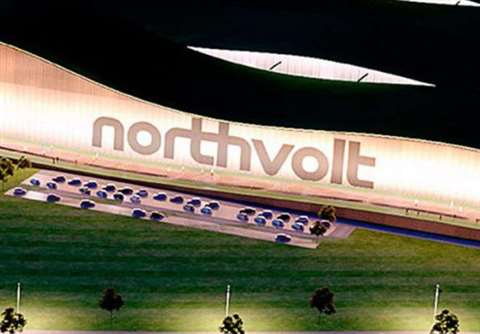 Northvolt, a supplier of sustainable battery cells, has secured €890 million in funding to build a large-scale lithium-ion battery production facility in Sweden.
The funding for the factory was confirmed by Northvolt's industrial partners; ABB, BMW group, Scania, Siemens, Vattenfall, Vestas and the Volkswagen group.
Founded in Sweden in 2016, Northvolt says it has made progress on its mission to deliver the world's greenest lithium-ion battery with a minimal CO2 footprint.
Volkswagen group and Goldman Sachs Merchant Banking Division lead the equity capital raised alongside BMW group, AMF, Folksam group and IMAS Foundation.
Northvolt says it will construct Northvolt Ett, a lithium-ion cell manufacturing facility with an initial capacity of 16GWh, in Skellefteå, Sweden. Construction on the facility will commence in August with large-scale production estimated to begin in 2021.
Northvolt Ett will serve as the company's primary production site and host active material preparation, cell assembly, recycling and auxiliaries. Plans have also been explored to expand the Gigafactory in the future to at least 32 GWh.
In addition to the Gigafactory in Sweden, Volkswagen and Northvolt plan to set up a 50:50 joint venture to establish a 16 GWh battery cell factory located in Salzgitter, Lower Saxony, Germany.
To facilitate this, Volkswagen will invest around US$1 billion (€890 million) in joint battery activities with Northvolt. The production facility is scheduled to start manufacturing battery cells for Volkswagen from late 2023 or early 2024 and could be increased to 24 GWh in the future.
Peter Carlsson, co-founder and CEO of Northvolt, said, "Today is not only a great milestone for Northvolt, it also marks a key moment for Europe that clearly shows that we are ready to compete in the coming wave of electrification, and that we will do so using battery cells which carry the lowest CO2 footprint possible.
"With these world-class financial and industrial partners coming together and getting behind our mission, we see a tremendous opportunity and momentum for further capacity expansion and product innovation over the coming years. This is only the beginning".