Notre-Dame reconstruction sponsorship
By Joe Sargent16 April 2019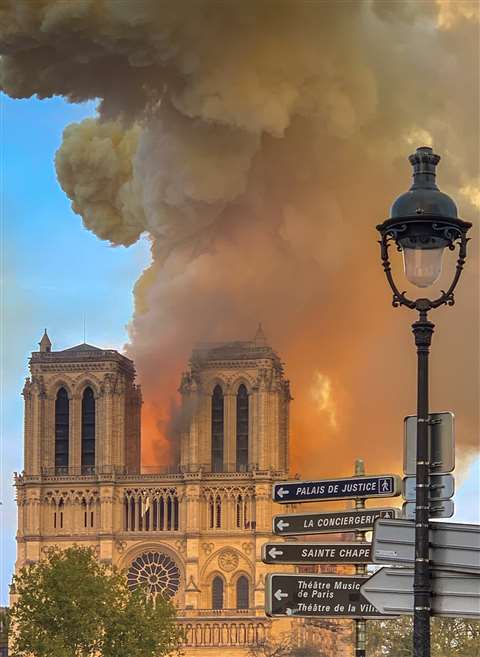 French-based contractor Vinci has suggested that building companies in the country should join forces to rebuild Notre-Dame.
This news comes just hours after the French national tragedy in which part of the iconic 850-year-old Notre-Dame cathedral burned down.
As well as getting the restoration underway as quickly as possible, the aim is to create an industry-wide skills sponsorship drive, which could possibly be led by the Fondation du Patrimoine (French heritage foundation).
If the authorities see fit, the contractor hopes to assist Monuments Historiques architects when they assess the requirements for repair.
Though the 13th century wooden beams will never be replaced, the French President, Emmanuel Macron, has called it a "terrible tragedy" and said, "we will rebuild Notre-Dame together".
The landmark's spire and roof collapsed but the famous bell towers were saved before the fire spread further.
Franck Riester, France's culture minister, warned that while the principal structure had been saved, the building was still unstable.
A national fundraiser has been set up to help rebuild the famous building and Vinci has said it intended to contribute, asking its employees to do the same.
Among the donations so far, about €300 million has been pledged by French business magnates with offers of help pouring in from around the globe.
Bernard Arnault's family and their company LVMH – a business empire owning Louis Vuitton and Sephora – pledged €200 million.
Fashion billionaire François-Henri Pinault, chairman and CEO of the Kering group which owns Gucci and Yves Saint Laurent brands, has also pledged a further €100 million.
Though the cause of the fire is not yet clear, the Paris prosecutor's office said it was currently being investigated as an accident, with officials saying it could be linked to extensive renovation works taking place.