Nottingham Castle's €33 million restoration
By Joe Sargent07 October 2020
A £30 million (€32.9 million) project to restore the castle of Nottingham in the UK is underway to bring the historic castle back as a tourist destination for the public.
Whilst visitor numbers had dropped as a result of Covid-19, the construction team, contractor G F Tomlinson, pressed on to complete the building of a new visitor's centre.
Funded by the National Lottery through the National Lottery Heritage Fund (NLHF), D2N2, Nottingham Castle Trust and Nottingham City Council, the works involved an extension to the Ducal Palace, significant mechanical and electrical works, specialist restoration, improved access to the underground cave network and the construction of the new visitor's centre.
Once home to Richard I and the infamous Sheriff of Nottingham, the improved destination is expected to attract more than 400,000 visitors a year, celebrating the last 1,000 years of Nottingham's heritage.
Preservation of the site was paramount throughout the project, and one of the key and most complex elements of the build was work to the Grade I listed Ducal Palace, which will house the new Robin Hood and Rebellion galleries, telling stories of the city's legendary outlaw.
Working closely with Historic England, stonework and lime plaster restoration was undertaken to bring the building back to its former glory. A particular focus of the sensitive restoration was ensuring repairs remained in line with the heritage of the original building.
Externally the Ducal Palace, which dates back to the 1660s, with the museum opening in the 1870s, now benefits from extensive roof repairs including the refurbishment of roof tiles and the addition of new slate, roof lights and lead gutters.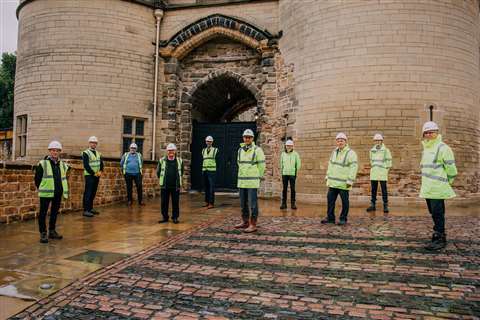 (L-R) Keri Usherwood - Communications and Marketing Manager - Nottingham City Council, Richard Oldfield – Project Manager – G F Tomlinson, Nigel Hawkins - Head of Culture & Libraries - Nottingham City Council, Portfolio Holder for Leisure & Culture, Councillor Dave Trimble, Hugh White - Director of Sport, Culture and Parks - Nottingham City Council, Kevin Dodds - Associate Construction Director – G F Tomlinson, Richard Hamblin - Project Director - Nottingham City Council, Andy Boam – Contracts Manager – G F Tomlinson, Josh Barber – Project Manager – Mace and Richard Smith - Operations Director – Mace
Whilst on site, G F Tomlinson reportedly recycled 97% of its construction waste, contributing positively to the local environment and the climate change agenda.
The contractor also provided many opportunities for local people including 27,000 hours of employment, training and social value initiatives.
As well as caring for the environment, the history and heritage of the site, dating back to Norman times, meant any excavations had to be carefully considered.
Extensive surveys were carried out to ensure areas of archaeological interest were identified, and the unique archaeology of the site was preserved, recorded and protected.
With the completion of the new visitor's centre, which houses a new ticketing office and café with an outdoor seating area, the project is on track for the castle to re-open in early 2021.