Oettinger tests out Epiroc concrete cutter
Germany-based demolition specialist and long-standing Epiroc customer the Oettinger Group has been testing a prototype of the manufacturer's CB 5500 concrete demolition cutter in the city of Karlsruhe.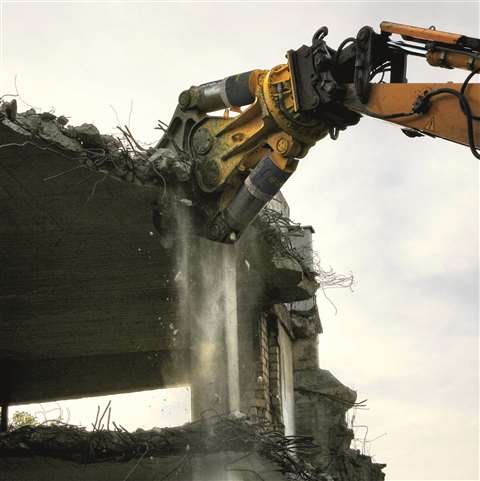 A particularly powerful attachment was required for the partial demolition of a former public administration building with integrated air-raid shelter, comprising 18,000 cu m (635,000 sq ft) of enclosed space and 4,000 t of reinforced concrete material.
First, gutting and remediation work was carried out with the aid of a MG 5000 Multi Grapple. This was followed by the demolition of a connecting bridge and the public building, including the heavily reinforced air-raid shelter.
The proven CC 5000 demolition cutters, weighing about 5.5 t and with a jaw width of 1,600 mm (63 in) were used for above-ground demolition.
Strong walls and substantial foundations were waiting in the basement – the walls, which had been pre-slit with the HB 4700 hydraulic hammer, were finally cut out with the new CB 5500 concrete buster and prepared for pulverisation.
Oettinger managing director Robert Oettinger said it is becoming increasingly important to dismantle foundations without major vibrations.
The CB 5500 is part of the Concrete Buster range, which has recently been extended to include six models with operating weights from 320 to 7,400 kg (705 to 16,314 lb) for excavator classes from 2 to 85t.
The CBs have been specially developed for heavy foundation work and are said to be particularly suitable for demolition with long-front excavators and in areas where the hydraulic hammer cannot be used.