Off-highway engine oil from Valvoline
By Mike Brezonick15 July 2021
Valvoline Inc., a global supplier of premium branded lubricants and services, has launched a new engine oil specially formulated for off-highway, heavy-duty diesel engines operating in severe conditions and extreme duty cycles.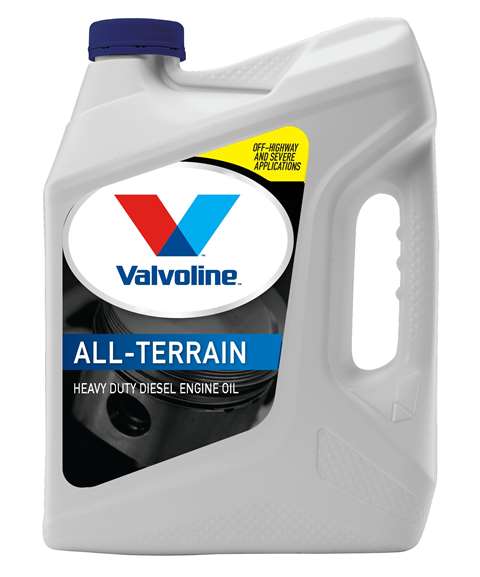 Valvoline All-Terrain oil is formulated to provide overall wear protection in extreme load regimes, enhanced viscosity and oxidation stability and protection against moisture and particulates.
"Not all heavy-duty engines are created equal," said Edward Murphy, PhD, senior group leader, Heavy-Duty Formulations at the company. "Valvoline All-Terrain was developed specifically with a focus on wear protection in equipment operating in harsh environments such as those experienced in mining, construction and agriculture.
"This innovative product is designed for the heavy-duty diesel engine that needs superior wear protection in extreme applications and high idle time."
Valvoline All-Terrain oil is available in SAE 10W-30 and SAE 15W-40 viscosity grades and is recommended for diesel engines operating in a wide variety of environments calling for API service CK-4 and prior service categories CJ-4, CI-4 Plus, CI-4 and CH-4. The formulation was tested in 25,000 hours of field trials among real fleets operating in mining and agriculture with extreme duty cycles, the company said. Even engines that were pushed to over twice the OEM recommended oil drain interval, demonstrated excellent sludge, deposit and wear control, Valvoline said.
"This engine oil was developed for heavy-duty vehicle operators with off- and on-highway engines who are looking for an oil to help protect critical engine parts against the challenges of severe duty cycles," said David Young, Valvoline Heavy Duty vice president of Sales. "Valvoline All-Terrain has demonstrated real-world engine performance, providing outstanding wear protection for critical engine parts and enhanced viscosity and oxidation stability in rigorous fleet testing."
Both large (bulk, tote and drum) and small packs (quart, gallon and pail) are now available. More information is available at https://www.valvoline.com/our-products/heavy-duty/valvoline-all-terrain