Off road power delivery from Versalift
By Euan Youdale10 February 2017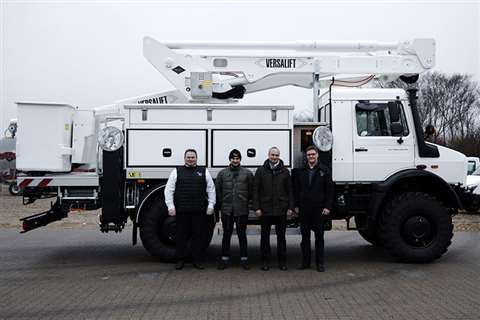 Power supplier BKW Energie, based in Bern, Switzerland, has taken delivery of a 46kV high voltage insulated Versalift VST-5500-MHI from the Swiss Versalift distributor Hubitec.
Installed on a Mercedes-Benz Unimog U5023 chassis, the vehicle boasts outstanding off-road capabilities, said the company, that will prove useful as it is put to work servicing high voltage power lines in the rough terrain of Switzerland.
The 4x4 Unimog U5023 is the biggest model of the latest Mercedes-Benz Unimog series of rough terrain vehicles – a series commonly used by the military.
The full hydraulic Versalift VST-5500-MHI, part of Time International, is an articulating telescopic platform with a working height of 19 m, an outreach of 12.2 m and a bucket capacity of 2 x 130 kg in the dual bucket setup. This particular unit features radial (flap-down) outriggers, a material handler with a capacity of 454 kg, and the chassis of the Unimog is fitted with Time Smartbox cabinets made of a combination of fiberglass and foam. The cabinets are equipped with LED lighting, an inverter and several 230V power sockets.