Offshore turbine erection from OHT
Specialist contractor Offshore Heavy Transport (OHT) has entered the wind turbine installation market. OHT from Norway has ordered a pair of jack up heavy lift installation vessels. They will be a GustoMSC design and each will have a 2,500 tonne capacity crane with a lifting height of 165 metres. Installation will be possible at depths up to 65 metres, OHT said.
The cranes are of an interesting telescopic lattice boom design. Torgeir Ramstad, OHT chief executive, explained, "They will be designed by GustoMSC and will be produced in co-operation with NOV, owner of GustoMSC. In retracted mode, capacity of the telescopic leg encircling cranes is 2,500 tonnes with a hook height above deck of approximately 120 metres. In retracted mode, a split hook mechanism ensures faster operation at a capacity up to 1,250 tonnes with a lifting height that will enable hub heights of 165 metres and more. The boom is a lattice structure where the extension segment is pulled out of the lower boom structure (both box shaped) while being supported by rollers."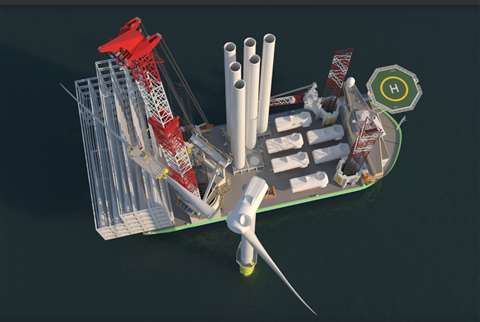 Features to minimise the vessels' environmental impact include energy and heat recovery, battery hybrid solutions as well as electrical and control systems helping reduce carbon dioxide emissions by 20 per cent compared to similar units, OHT said. The design allows future installation of fuel cells powered by hydrogen to further reduce emissions.
OHT said they will be built by China Merchants Heavy Industry (CMHI) in Jiangsu, China. There is an option for another two vessels for OHT's subsidiary VIND Offshore Installation AS. The first unit will be delivered in early 2023, OHT said, with flexible delivery on the second unit.
Torgeir Ramstad commented, "Through this initiative, OHT firmly establishes its position as a leading, fully integrated transport and installation company for offshore wind. In doing so, we are responding to client concerns about the lack of capable vessel capacity in the booming offshore wind market. We hear them applauding the development of a capability by a single company to handle the T&I of next generation foundations and turbines."
VIND Offshore Installation and its founder, Rune Magnus Lundetræ, developed the concept and business model. Lundetræ said, "OHT already has the organisation, systems, track record and market presence required to successfully deliver and execute this initiative. We look forward to our involvement in the world's first integrated pure-play T&I company in the offshore wind segment with interesting triggers for further growth, including expansion of the Alfa Lift series of foundation vessels and possibly more jack-ups through exercising the options."
OHT is known for heavy transport, including some of the world's heaviest and largest structures, mostly in the oil and gas industry. A current project is Moray East off the coast of Scotland, UK, where OHT is transporting 48 jacket foundations from the UAE.