Omega Morgan acquires Canadian heavy lift company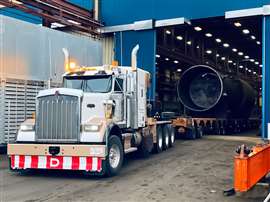 The Omega Morgan Group of Companies (Omega Morgan), a machinery moving, specialized transportation and industrial services company, has acquired Donald Rigging, a prominent player in the rigging and transportation services industry in Western Canada.
This strategic move marks Omega Morgan's expanded presence in Alberta, enhancing its service offerings in the oil, gas, chemical, utilities and mining industries,
"The acquisition of Donald Rigging aligns perfectly with Omega Morgan's growth strategy and commitment to offering comprehensive industrial services," said Omega Morgan CEO Dick Ferchak. "Their expertise in the field, coupled with our resources and network, will deliver enhanced value to our clients across North America."
Donald Rigging will continue to operate under its own brand, maintaining its headquarters in Calgary, Alberta. Angus Donald will stay on board to uphold the company's culture and vision.
"We have a long-term plan for the future, and we're excited about taking this to the next level with our new partners," said Donald. "Joining forces with Omega Morgan is a significant milestone for Donald Rigging. This partnership expands our capabilities and provides our employees with greater growth opportunities."