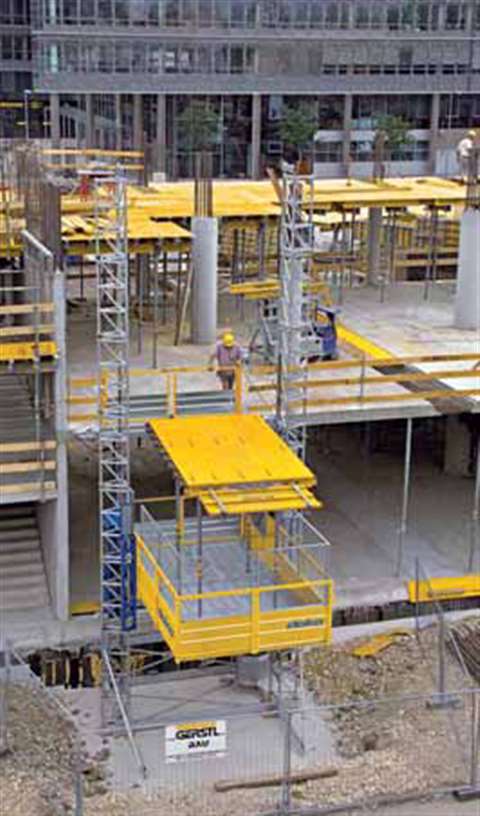 The 2007 World of Concrete was the biggest in the show's history, with 1739 exhibitors occupying more than 83650 m2 of showground, and visitor numbers exceeding 91600.
For the 2008 exhibition, organiser Hanley Wood predicts higher visitor numbers, while the space occupied by exhibitors remains the same with a similar number of exhibits as last year on over 1700 separate stands.
With ConExpo just two months after World of Concrete, many of the major manufacturers will be holding back many major new product launches for the North American market. However, there will still be plenty to see on the stands, from the smallest of skid steer loaders right up to the largest hydraulic excavators. Naturally, given the main the focus of the show, there will be a plethora of concrete pumps, pavers and formwork on show too.
Falsework and formwork
One of the largest stands in the formwork area will be Doka's. It will be showing its 10 m/minute TLS Table Lifting System for craneless lifting of its Dokamatic tables. The system's integrated brackets make it possible to assemble climbing table-lifting units with a lifting height of up to 10 m. For lift heights of up to 40 m, the TLS can be erected on a base slab. Horizontal repositioning of the tableforms can also be carried out without a crane, using the attachable drive unit and "shifting trolley".
Also new is the Xclimb 60 climbing formwork system, which adapts to variations in storey heights without the need to modify the climbing scaffolds. It can climb with crane assistance or hydraulically. Attached to either wall or floor-slabs as required it cab be used with either framed or timber-beam formwork for exterior facades, punctuated facades and high-rise cores. Its system components can also used as a climbing protection screen for safeguarding slab-edges
Also on show will be Doka's Framax Xlife framed formwork, the Frami hand-set formwork system, H 20 circular formwork system, RS column formwork and Dokaflex floor slab system.
Elsewhere, EFCO will be showing its Guided Rail System (GRS), which climbs using a pair of high-strength, steel rails that support the all-in-one form panel and working platform. Rails are added at ground level to safely guide the set-up to the height requirements of the project and to allow a crane to lift the set-up while continuously attached to the wall.
With EFCO's GRS, which starts at 10 ft (3.11 m) above the footing, the forms are rolled back for cycling to the next level and then cleaned, oiled and rebar is placed. The rack and pinion mechanism of the roll-back feature is operated with a ratchet for safe and easy removal of the form from the wall.
Italy's Farina Formwork Systems will be showing is new Destil Formwork System. Using "advanced formwork technology" during the design and manufacture process the units are galvanised and suitable for work with concrete up pressures of up to 80 KN/m2. Panel heights available are 1.2, 1.35, 2.7, 3.0 and 3.3 m, all of which are compatible with most other major brands of formwork.
Pumps and pavers
Schwing's new SP 500 trailer pump has a 45 yd3/hour (34.5 m3/hour) output and a Deutz 72 hp (54 kW) diesel engine (electric motor optional). Features include the company's Long Rock Valve, which promotes filling efficiency of the pumping cylinders even with harsh mixes containing up to 1.5" (38 mm) aggregates. Also standard is the previously optional hydraulic agitator, forward and reverse controls along with the on/off and E-stop functions of the remote controller.
Also new from the company is its new S 36 SX concrete pump with four section RZ4 placing boom, with 270° Z fold tip section. The S 36 SX also features Schwing's Super X Outriggers, a Generation 3 2025-5 120/80 MPS concrete pump, which gives a maximum output of 178 yds3/hour (136 m3/hour) twin joystick Vector Control, its Super 3000 boom pipe with +12% thicker walls, carbide wear parts, a hopper vibrator and night light kit.
Gomaco will be showing its line of curb and gutter machines, including the new 136 hp (101.5 kW) GT-3400, a remote control curb and gutter machine that can pour on the left and right. It features Gomaco's G21 digital controller (the new G 22 is optional). The G22 has a dual language feature, easy to understand graphical display – coloured pictograms depict the machine's functions, a tight radius, all-new three-track footprint with All-Track Steering, direct-drive trimmerhead, the Hook-and-Go mold mount system and two speed track motors.
The GT-3400 can slipform curb and gutter, safety barrier, bridge parapet, sidewalk, monolithic sidewalk with curb and gutter, recreational trail and flat slabs up to 6 ft (1.87 m) wide. Maximum travel speed is 125 ft/minute (39 m/minute).
Power Curbers' new 5700-C slipforms concrete highway safety barrier and bridge parapet, as well as curb-and-gutter, sidewalk and highway safety barrier. It pours from the right and left side. Barriers up to 1.32 m high can be poured. An optional kit allows the operator to lift the machine off the wall at the end of the pour.
Other features include a standard swivel chute for pouring in a single traffic lane, a choice of control systems, a 500 litre water tank, 250 litre capacity fuel tank and easy access to all maintenance and service points, while the operator's platform has been raised for better visibility.
Power Pavers SF-2700 paves roads from 3.6 to 9.76 m wide with integral curbs on one or both sides. Pave depths from 0 to 406 mm are possible, with no changes required to the machine or interruptions to the paving process.
With 686 mm of track clearance, the machine has one of the narrowest profiles in the industry. It accepts all standard attachments, has a 12-hour working day fuel tank and dual controlled split auger system.
Other equipment
Having recently gained a US patent for its Quick-Change jaw sets, which allows for field changes in less than 15 minutes for its MT series Multi-Tool, there will be a number of models from Allied Gator's range on display sporting this system. In addition to its 90° jaw opening, which allows the tool to accommodate more material, the MT series also features interchangeable wear parts in the jaw, which can be changed in five minutes.
These sets include cracker teeth to penetrate heavily reinforced concrete and dense rock, crusher teeth that de-rod and pulverise concrete in one jaw closure and finish teeth that send a clean, flat controlled crack through curbs and walls.
Genesis equipment will have a couple of new Logix processors on show, the LXP 200 and LXP 400, designed for use on 23 and 45 tonne class excavators. The LXP 400 is intended for mid range high reach equipment, while the LXP 200 is intended for ultra-high reach machines.
Reed will be showing its Series 7 LOVA Gunite Machine for shotcrete. Material is gravity-fed to a special 15-pocket rotary feed bowl for smooth concrete spraying. The rotary feed bowl feeds the material to a special 2" (51 mm) gooseneck, with a polyurethane liner specially formulated to stand up to harsh dry sand and cement mixes. Material is conveyed in suspension through the hose to a special 2" (51 mm) "Hamm-style" nozzle where water is introduced and the concrete is sprayed.
Ditchwitch will have several models from its Zahn trencher range at the show, including the Zahn R150. Features include a Honda petrol engine, operator's console, and an articulation joint for extreme manoeuvrability. The front-end trencher is designed to penetrate the ground more easily and enhance overall stability.
Also on display will be the Zahn R230. Features include a Kohler petrol engine, operator's console, and articulation joint that enables the front end to perform like a dedicated unit. The two-wheel-drive R230, and the larger R300, which will also be on display, powers two types of front-end trenchers, while its four-wheel-drive InterChange counterpart accepts up to seven types of front ends: trencher, plow, dumper, tiller, backhoe, stump grinder, and a tool carrier that can drive more than 40 quick-change attachments.
Having acquired Soff-Cutt in June, Husqvarna will be showing a range of concrete saws at the show. The Soff-Cut range allows concrete to be cut before it is fully set, minimising the risk of random cracking and simplifying the working process.
Husqvarna also bought Australia's King Concepts this year and will be using the show to demonstrate several of it surface preparation products alongside its "spectacular" HCP road show, a 16 m long trailer filled with power cutters, drilling equipment and floor saws.
Bennu Parts & Service's will be showing the latest addition to its Bennu range of mast climbers. Its new continuous-climb, self-levelling 2-tower mast-climber is fully compatible with all its own-brand accessories. With the push of a button, users can safely and efficiently raise and lower the scaffolding continuously, while the automatic levelling feature keeps the platform level. The new platform is equipped with multiple safety features built into the design, including a redundant manual backup, spring-loaded "safety dog" and a hydraulic internal brake.
L.B. White's new Premier 170-DF, is the latest addition to its line of portable construction heaters. It can operate using either propane or natural gas. The 170-DF features direct spark ignition, remote thermostatic control, extendable wheel-barrel handles, easy rolling wheels, corrosion resistant Tri-Shield finish, 170000 BTU/hour, and the option of using ducting. An array of safety features includes a totally enclosed flame, built-in temperature management, airflow safety devices, fully enclosed electronics, and virtually clean air output.
Gunite Machine, a division of Mesa Industries, will be showing its Ridley C-10, a powerful, compact machine designed for placing dry-mix gunite material. It delivers a steady flow of material allowing even hydration at the nozzle. The C-10 features a 9 hp (6.7 kW) air motor with heavy-duty spur gear drive – a hydraulic motor is also available – and new feed system. It outputs up to 15 yds3/hour (11.5 m3/hour) and can handle -¾" rock (-19 mm).
Mustang has upgraded its air conditioning/heater system to create an optional pressurised cab for each of its three current compact tracked loader models – MTL16, MTL20 and MTL25. Cabs equipped with this option now have pressurisation that virtually eliminates dust, dirt and debris entry. Noise is also reduced, while visibility during cold weather is maintained thanks to a special defroster vent located near the front cab door.
Beta Max Inc. will be showing its new Max Climber 6000P passenger hoist system. It has a lifting capacity of 6000 pounds (2.7 tonnes) and can hold a maximum of 35 people. The cabin is 3 m long and 1.5 m wide by 2.44 m high. It is also available in single or dual cabin configurations. Maximum lift is 311 m high at a maximum speed of up to 56 m/minute. Features include an overload warning system, variable frequency drive controller and programmable control systems. Various mast and tie systems are possible.
Safi will be launching the Gamm MC/PC hoist at World of Concrete. Maximum lift capacity is 800 kg. Two lift speeds are possible, 24 m/minute for materials and 12 m/minute for transport.
Last word
With so many products on show at this year's World of Concrete there is sure to be something for every visitor. While the chance to meet old and new friends shouldn't be missed either.
International Construction will also be at the show, Stand 4152, Hall C, so please feel free to drop by and say hello.