Opera house challenges
By Chris Sleight03 March 2015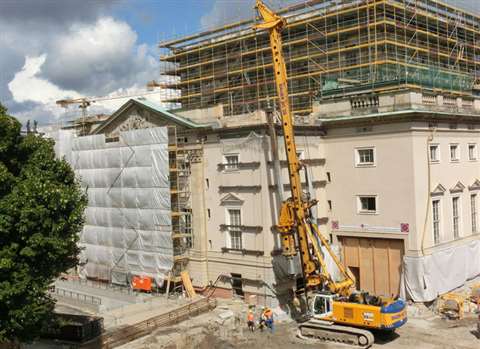 A joint venture of specialist contractors Bauer and Keller is coming to the end of foundations work on the project to rehabilitate the Berlin State Opera building in Germany.
The scheme to modernise the building began in 2010 and encompasses structural repairs, replacement of internal equipment, improving disabled access and updating air conditioning and fire protection systems. External features of the listed building are also being preserved and restored.
The ground engineering aspect has focused on building an underground structure to connect the opera house to a new rehearsal centre, built on the site of a former warehouse. Work began on this structure, which is being built in a 3,300m2 excavation pit, in June 2011. Completion of this part of the work is due in mid-2015.
Establishing the excavation pit involved, among other tasks, the construction of 1,300m2 of reinforced concrete diaphragm wall, 720m2 of diaphragm cut-off wall with inserted sheet piles and 5,200m2 of secant pile wall with diameters of up to 1,200mm. In addition, 1,020m of foundation piles were sunk up to 30m deep.
The equipment used for this included two bauer BG 28 drilling rigs, two Klemm drilling rigs - a KR 806-2B and 806-7 - as well as a Bauer diaphragm wall grab on an MC 64 duty-cycle crane.
Several exploratory bores were carried out with the BG 28 rig at the start of the build, which revealed numerous obstacles on the planned diaphragm wall alignment. These included a bank strong room, which had been partially destroyed and buried by bombing, and various wood and steel foundations.
These entailed changes to the original plans, with extensive jet grouting and some ground freezing added to shore-up structures.