OPTARA project for Aertssen and ALE
By Laura Hatton19 November 2014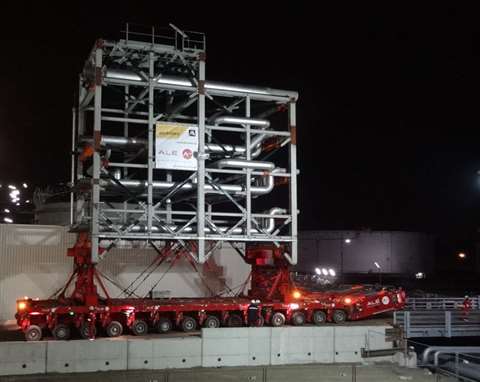 Crane service provider Aertssen, based in Belgium and UK headquartered global heavy lift and transportation company, ALE, have been awarded a joint venture contract to work on a refinery in Antwerp, Belgium.
The project is part of a €1 billion (US$ 1.25 billion) investment by oil and gas company Total. ALE and Aertssen will work for Spanish EPC Técnicas Reunidas on the OPTARA project, which includes construction of a new unit and the conversion of an existing unit, a spokesperson said.
Modules weighing more than 1,000 tonnes and 23 metres tall will be transported by barge from a manufacturing yard in Tarragona, Spain, to Belgium. On arrival in Antwerp, ALE and Aertssen will be responsible for the transportation from the port to the refinery. They will also be responsible for installation.
The first modules have been delivered to the refinery. Around 80 axle lines of self propelled modular transporter (SPMT) will be used to transport the modules and crawler cranes will be used for the installation.
Yannick Sel, ALE project sales manager, said, "We are delighted to be working in partnership with Aertssen as one of the market leaders in transportation and crane lifting. We can combine our strengths to offer the full solution for the client and the convenience of one point of contact."
Saskia Aertssen, Aertssen branch manager, said, "The services provided by Aertssen and ALE, a world-class heavy lift and engineering partner, are complementary and resulted in the most suitable and flexible solution that the client could wish for. We're delighted with this co-operation and are looking forward to the first lift."
The refinery and petrochemical complex in Antwerp is Total's second-largest and Europe's third-largest refinery.