Oracle holds Future of Projects event
By Leila Steed06 November 2019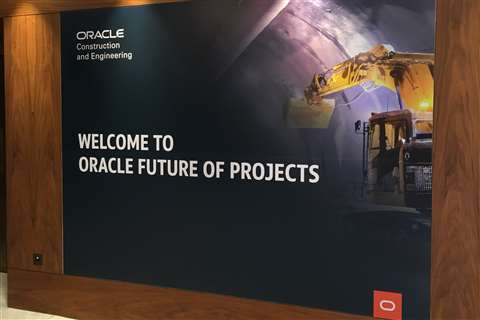 Mark Webster, the senior vice president of Oracle Construction and Engineering, opened the company's Future of Projects event in the UK yesterday.
Held at the Royal Lancaster Hotel in London, Oracle said the event served as a vehicle for industry peers, thought leaders and experts to share ideas, best practices and digital transformation success stories.
In his opening speech, Webster spoke of the under utilisation of digitisation in the construction industry and highlighted the importance of data, saying, "Data is not the new oil…it's so much more".
GG/LA Infrastructure chairman and CEO Norman F. Anderson delivered the event's opening keynote speech. His remarks drew attention to crowd sourcing and to how the interaction between project organisers and owners with a project's end users, can help toward its successful completion.
In his keynote speech Karthik Venkatasubramanian, Oracle's vice president of data science & analytics, spoke of the importance of the digital assets that are created by physical projects and how this data can be used to predict, and therefore prevent, situations that may lead to project delays, budget overruns and safety issues.
After the opening speeches and keynote addresses the event's guests, who came from a range of sectors including civil, energy and industrial, were able to attend presentations by a number of industry businesses and organisations, including Mace and the UK Ministry of Defence.
Later, Burcin Kaplanoglu, the company's executive director and innovation officer, provided insight into Oracle's new innovation lab, which was launched last year to help construction and engineering organisations plan and execute their digital transformation.
The conference also included presentations by construction firm J Murphy and Sons' group head of BIM and digital construction, Alex Jones, and Highways England's Will Edwards, head of planning smart motorways.
A networking event closed the conference.