OSHA, Noble Texas Builders promote worker safety at collegiate academy
In its latest strategic partnership, the Occupational Safety and Health (OSHA) has entered a one-year agreement with Noble Texas Builders to promote worker safety during construction at the Texas Rio Grande Valley – McAllen Independent School District (ISD) Collegiate Academy in McAllen, Tx.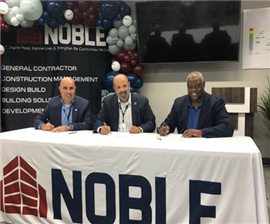 The program will cover how to control and eliminate falls, struck-by, caught-in/between and electrical hazards so the workers can avoid work-related injuries, illnesses and fatalities, according to OSHA.
To accomplish these lessons, OSHA and Noble Texas Builders, a first-place safety award winner this year, will advocate for employees to report potential safety and health concerns.
"Noble Texas Builders shares OSHA's commitment of ensuring all personnel are trained on how to recognize and prevent hazards during construction," said Roosevelt Shavers, OSHA area director in Corpus Christi. "This partnership will allow us to forge a cooperative relationship established to protect the workers on this project."
The partners will mentor the subcontractors and employees who attend their "Lunch and Learn" sessions, which will use OSHA's official best practices as a model.
In addition, the program at the McAllen ISD will utilize Noble's safety and health program, which won the firm the 2023 National AGC Construction Safety Excellence Award in the Construction Management Division.
Based in, La Feria, Tx., Noble is a commercial and institutional builder and has implemented best practices such printing bar codes on employee badges that link to site-specific safety policies and procedures. There's also a red bar code that sends emergency notifications to employees within seconds.