Outrigger calculator for IPAF
By Euan Youdale09 February 2018
Spreader plate and crane mat specialist Outriggerpads has created a new calculator for the International Powered Access Federation (IPAF).
The spreader plate calculator aims to help users accurately choose the right pads for each job, by accounting for factors such as the maximum allowable ground pressure and the machine load per outrigger or wheel. It also helps operators identify where to find the relevant data on the access equipment itself.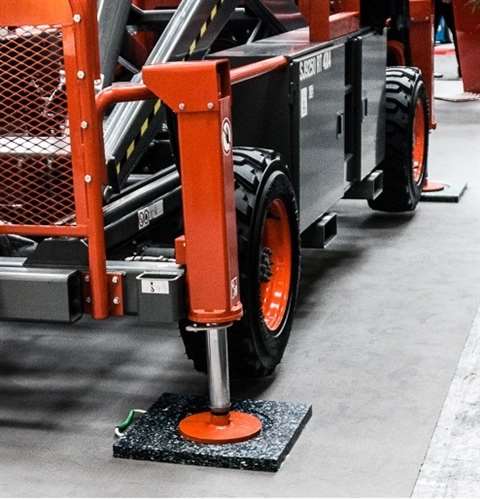 Charles Grizzle, business development manager for Outriggerpads, said, "We are delighted to be working with IPAF to promote the safe use of spreader plates.
"Our goal was to develop a calculator that is intuitive and straightforward, making it as easy as possible to identify the best size and type of spreader plate for each job."
Replacing the IPAF Ready Reckoner, the new calculator aims to provide more accurate results and be more user-friendly. It will be available as a web application from the IPAF website as part of its Spread the Load! safety campaign.
Tim Whiteman, CEO of IPAF, said, "MEWPs with outriggers are designed to be very safe and stable. "However, an inadequate ground assessment or poor choice of spreader plates can cause instability and even lead to a machine overturning. This new calculator will help operators to choose the optimum outrigger pads, further improving MEWP safety."
Spread the load! calls for the proper assessment of ground conditions and the correct use of stabilisers, outriggers and spreader plates. IPAF believes that spreader plates should always be used with booms when they deploy outriggers; and all other MEWPS that have outriggers, unless a risk assessment has specifically deemed them to be unnecessary.
Outriggerpads has seen a marked increase in export orders during recent months, particularly to the oil and gas sector. "There has been a clear surge in enquiries and orders from offshore and on-shore energy companies," added Charles. "This has been across the board; we have recently shipped spreader plates to companies in the USA, Africa and Azerbaijan.
"In the UK, we are also experiencing growing demand from major construction contractors, who increasingly appear to be pushing for the use of our type of spreader plates over metal or wooden pads."
The company's heavy-duty UHMW polyethylene spreader plates and ground mats hold their shape under extreme vertical pressure and can adapt to the contours of the terrain. They are also designed to be lighter weight than many equivalent pads made of metal or wood and are much less susceptible to water damage, corrosion and splintering.