Overhead lines power Liebherr haulers
By Joe Sargent08 October 2020
In a bid to save around three million litres of diesel per year in mining applications, Austrian mining company VA Erzberg partnered with German manufacturer Liebherr to develop a new 'tram-like' system for powering rigid haulers on site.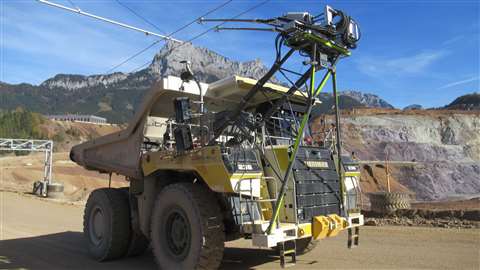 The system, comprising a €20 million investment, involves the use of an overhead trolley line to deliver electric current to a diesel-electric hauler below.
The truck, a 100 tonne T 236, had been converted by Liebherr to operate with the overhead line connected to the vehicle through a current collector with bars.
This electric power is then used on uphill haulage segments to reduce fuel consumption and emissions.
After signing a development contract at Bauma Munich in 2019, the two companies began testing the system on a 500m test track at VA Erzberg's Eisenerz iron ore mine in Austria.
On 29 September 2020, VA Erzberg hosted a groundbreaking ceremony announcing the extension of the track to a total distance of 5km.
The new track has been designed for a fleet of six Liebherr T 236 machines with the upper section of the extended track at around 1,055m above the sea level.
A company representative from VA Erzberg said, "Up to now, the transport of more than 13 million tonnes of rock per year has required enormous amounts of energy of around 4.5 million litres of diesel. It will be three million litres less diesel in the future when the successors to the mechanical diesel trucks currently in use start operating at Erzberg."
In the long term, VA Erzberg also expects to reduce its CO₂ output by as much as 4,200 tonnes per year.
Josef Pappenreiter, Technical Director of VA Erzberg, said, "With this technology, we expect a sustainable energy-optimised production. Around 13 million tons of rock are currently transported in the mine every year. The cost factor for ore production is correspondingly high.
"In addition to the positive environmental effects, an investment in this new technology also secures the sustainable extraction of the important raw material iron ore for domestic steel production."