Palazzani for high culture
By Euan Youdale04 December 2018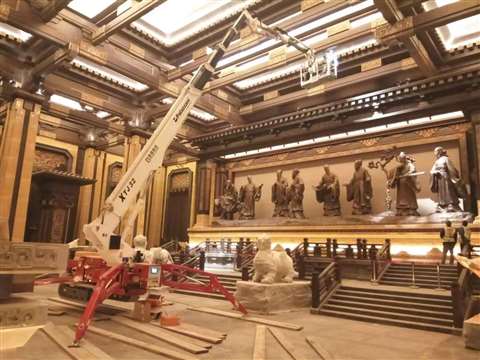 The Han Culture Expo Park, located in Hanyuan Lake, China, is spread over an area of 97,600 square metres. The main building, where the Han Museum of Culture will be located, is under construction and will be on eight floors - six ground and two below ground - at a height of 57.15m.
Based in Luoyang, Henan province, this important cultural hub includes the sanctuary hall, the holy hall, the San‐Han Xiongfeng corridor, the Chinese sage gallery, Chinese character gallery, Han art gallery and ancestor's hall. Conference rooms, VIP and business areas will be available too to host public or private cultural events.
A Palazzani XTJ 32 was chosen, among other brands, for its work envelope, and the abiliy to meet the building's needs: 32m of working height and 14.5m outreach. It is used initially outdoors during the construction phase, and later indoors for all the building's maintenance and cleaning operations.
Another reason for choosing the model was its stowed dimensions of 1.985m x 1.10m, which allow the machine to move across the whole area, includling underground areas with their low entrances, and the large cage of 180 x 70 x 110cm, with 230kg capacity, non‐marking tracks and outreach limiting system software with touch screen monitor in Chinese.