Palazzani introduces after sales app
By Euan Youdale18 September 2020
Italy-based Palazzani has launched an after sales service app.
The mypalazzani app has been developed to provide immediate and free information about the equipment being used, from any device or operating system (Android, iOS, Windows).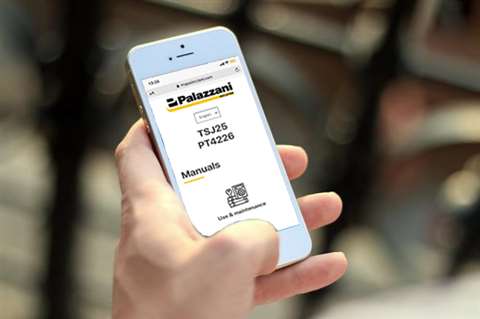 By scanning a QR code on Palazzani's spider lifts, the operator is taken through to an options menu that includes the machine's manual, electrical-hydraulic schemes and spare parts directory, as well as a selection of operator use and equipment recovery videos, for quick and easy troubleshooting.
If further assistance is required, relevant contacts are available via WhatsApp or WeChat, or the user can write an e-mail to Palazzani or its dealers' after-sale staff. A shared folder is also available for temporary files to be uploaded.
"Customer care and satisfaction are the values that have always guided Palazzani Industrie. The mypalazzani project is only the beginning of a process of information integration and sharing that will allow the end user to take greater advantage of the operational performance of Palazzani products"
The next step for the company is to improve its PalConnect telematics service and integrate it into the MyPalazzani project.