Palfinger adds to HD loader range
Manufacturer Palfinger has added to its heavy duty crane series with the 109 tonne-metre PK 135.002 TEC 7.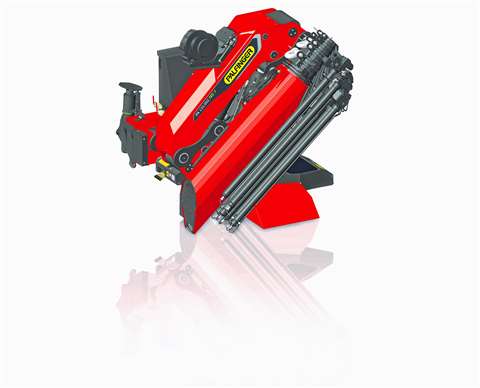 Versatility in its range of application is a primary feature, the Austrian company said. It has a maximum load moment rating of 109.3 tonne-metres and lifts 30 tonnes. Maximum hydraulic outreach on the main boom only is 22 metres. To extend reach to 32.2 m there is a choice of three fly jibs, the PJ 240, PJ 190 and the PJ 150. The new model is 2,000 kg lighter than its predecessor, the PK 150002, and offers up to 35 per cent more capacity on a jib.
Mounting can be on four- or five-axle trucks. On the former, with a maximum gross vehicle weight of 32 tonnes, there will still be 2,500 to 3,000 kg of payload, Palfinger said. On a five axle with a 40 tonne GVW there will be 8,000 kg payload. Its dead weight in standard configuration is 10,170 kg. Outrigger spread is 10 m.
An option is the MEXT function that allows one or two mechanical extensions to be monitored by sensors and so integrated into the overload protection system. The TOOL function means that additional devices connected to the crane via its multi-functional adaptor can be included in the overall calculation of the stability limit. Similarly, the WEIGH function allows a load to be weighed directly by the crane as it is lifted.