Palfinger launches Light Class truck mount
By Euan Youdale13 September 2016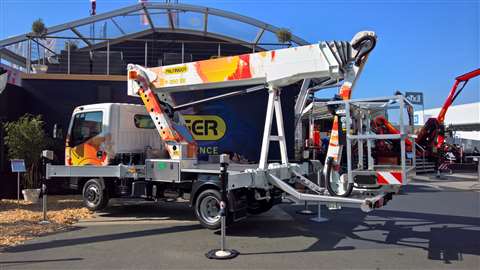 Palfinger Platforms is launching the P250BK Light Class truck mount at the IAA show in Hannover, Germany this week.
The new 24.7m working height model includes a basket and telescope system with aluminium extrusion profiles to keep the weight low and a unique stabiliser control system.
In addition to the reduced weight, the model has the longest reach in its class at 17m, said the manufacturer. Working below ground level and driving with upright jib are possible with the model, as they were with its predecessor, the P210BK.
The basket is also made of aluminium and is 68% more rigid than in the previous model. The hydraulic control block provides a more efficient hydraulic system that prevents noise and reduces fuel costs.
The platform can be mounted on a Euro 6 chassis with a 3.5 tonnes GVW, including the driver and passenger. An automatic positioning system with axis ground clearance monitoring and automatic levelling of the platform is a standard feature.
The stabiliser control, as seen in the manufacturer's premium and jumbo class models, has been added at the base so users do not have to be in the basket to stabilise the machine.
Stop valves on all hydraulic cylinders prevent the platform from falling in the event of hose rupture. In addition, four skid-resistant safety plates with grips on the base frame and an anti-squeeze protection function combined with knee rail in the basket ensure maximum safety.
Furthermore, an optional operating display is available. This allows the speed or the start‑up and brake ramps to be changed to meet individual needs, for example.
The IAA commercial vehicle exhibition takes place 22-29 September.