Panama Canal Pacific locks filled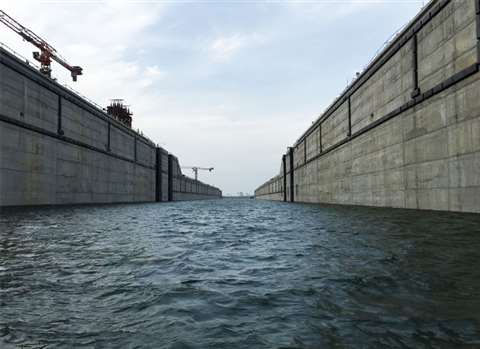 The Project to increase the shipping capacity of the Panama Canal has reached another milestone, with the filling of the new locks on the Pacific side. This followed the filling of the Atlantic locks earlier this month.
The Commissioning of the new locks is expected to take 90 days, and will include stress testing of the lock gates which were installed in March. Each lock complex includes three chambers, nine water-saving basins with a filling and emptying side system and rolling gates.
The construction consortium responsible for the work, Grupo Unidos por el Canal (GUPC), comprises Sacyr of Spain, Salini-Impregilo of Italy, Jan De Nul of Belgium and Constructora Urban, SA (CUSA) of Panama.
Completion of the project is due next year, and the expansion of the canal will allow 400 m long, 14,000 container capacity 'post-Panamax' ships to use the channel. According to the client, the Panama Canal Authority (ACP), the expansion project was 89.8% complete as of the end of May.
Salini Impregilo added that the project had seen the excavation of 50 million m3 of material, the pouring of 5 million m3 of concrete, the use of 290,000 tonnes of steel and employed more than 10,000 workers.