Vinci Construction has won a new €156 million contract for Line 15 South, part of the future Grand Paris Express transport network in France, including the construction of the Noisy Champs station.
A joint venture made up of lead company Vinci Construction and Spie Batignolles has won the civil engineering contract, with the Société du Grand Paris selecting the bid submitted by the joint venture covering construction of the Noisy-Champs station, a carriage storage area, and a road bridge over the RER A regional express line tracks.
The new station will ultimately connect Line 16, Line 11 and the RER A regional express line.
The contract includes the metal frame, glazed facades and various metal-frame pedestrian walkways including stairs, footbridges, etc. Work will get under way in the late summer of 2017.
The project faces a large number of challenges, said Vinci. The joint venture must enable the existing station to continue to operate throughout the project and it will have to contend with complex logistics in a restricted urban environment while meeting a demanding schedule.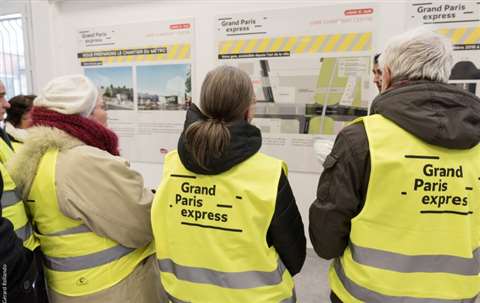 The building's architecture by Jean-Marie Duthilleul includes a helical dome. The dome and the metal walkways will require 1,650 tonnes of steel, said to be the weight of the first level of the Eiffel Tower.
To help protect the environment, a storm water basin will be built at the site. All recovered water will be recycled to supply the concrete and mud plants for the worksite.
Vinci said that the workforce aspect of the bid was a crucial part of project management. It said that there would be 60,000 hours of integration work for the long-term unemployed – about 50 people for the duration of the project. Overall, the project will represent more than 680,000 man-hours.
As part of its corporate social responsibility programme for the regions, the joint venture will use its Chantiers & Territoires Solidaires endowment fund, set up for the Grand Paris projects, to support public interest projects in the vicinity of the worksites.