Peri sells 3D construction printer
By Mike Hayes17 August 2020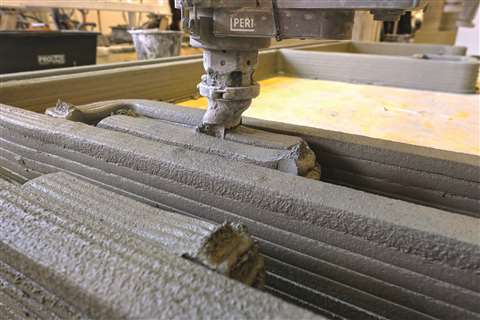 Peri has sold its first 3D construction printer to the German concrete products manufacturer Röser.
Peri – better known as a formwork and scaffolding specialist – invested in the Danish technology firm Cobod in 2018, and has been working with the firm to develop 3D printing for construction.
Having purchased the BOD2 printer, Röser will work with Peri specialists to manufacture prefabricated concrete elements for civil engineering projects, from Röser's new plant in Laupheim, in southern Germany.
BOD2 is a gantry printer, with a print head that can move on three axes on top of a metal frame. The size and design of the printer eliminates the need for frequent relocation and, therefore, recalibration.
The machine has a printing speed of 1m/second and is able to complete 1m2 of a double-skin wall, making it, according to Peri, the fasted 3D construction printer currently on the market.
Once installed at Röser's plant, a pair of operators, along with an onboard camera, will monitor the machine as it prints the prefabricated concrete elements.
Thomas Imbacher, managing director Innovation & Marketing at Peri group, said, "Right now, a number of universities and companies are working on developing and industrialising this technology for various market segments such as, for example, residential construction. The construction printing team at Peri is working non-stop on this topic and we are confident that we will be able to report more success stories before long. Selling the first 3D construction printer to our partner and client Röser GmbH is an important first step for Peri."
Maximilian Röser, managing partner of Röser, said, "We have monitored the development and potential of 3D construction printers in various industries and we are convinced that they will also have a huge role to play in the precast concrete industry over the long term. Röser GmbH has always been a highly innovative company that is open to new ideas. For that reason, we are embarking on this venture of further developing and promoting 3D construction printing technology with conviction, with Peri as our partner."