Perkins debuts Stage IV/Tier 4 final engine
By Lindsey Anderson16 April 2013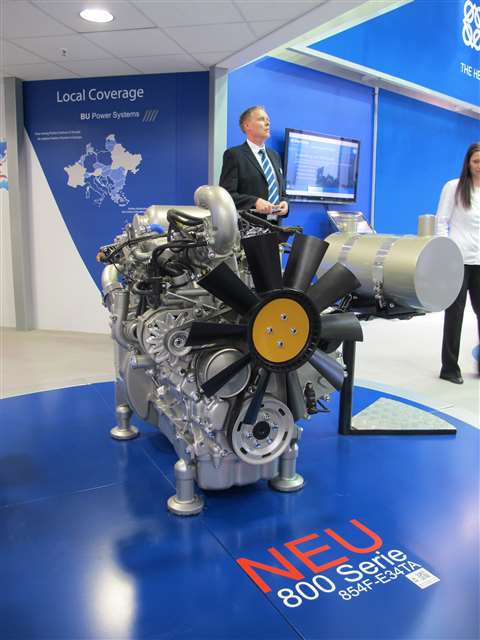 Engine manufacturer Perkins unveiled its new 854-E34TA engine at Bauma. The Stage IV/Tier 4 final unit is designed to meet standards above 56 kW (75 hp). It will go into production next year.
The 4-cylinder, 3.4 liter engine uses selective catalytic reduction technology packaged separately from the diesel oxidation catalyst module which makes the engine compact and absent of a diesel particulate filter. It can be mounted horizontally or vertical which allows OEMs installation flexibility, said Allister Dennis, marketing manager for Perkins Engines.
"Performance from the 854F-E34TA has been boosted to 90 kW (121 hp) with a maximum torque of 460 Nm thanks to its single stage turbo with smart wastegate," Dennis said. "Rated speed is between 2200 and 2500 rpm."
The engine has also decreased fuel consumption by 8% despite the increase in performance.
Heat rejection remains similar to its predecessor. The launch of the 854F-E34TA at Bauma 2013 completes Perkin's Stage IV/Tier 4 final engine range, which also includes the Perkins 400 and 1200 Series.