Perkins opens regional logistics center in Brazil
By Lindsey Anderson14 January 2020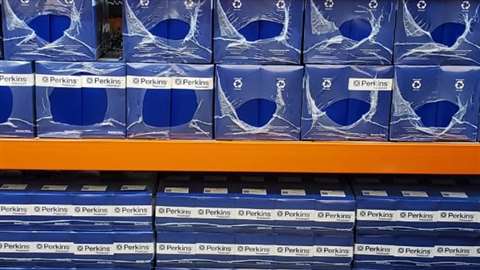 Perkins has opened a regional logistics center (RLC) in Curitiba, Brazil, to support original equipment manufacturers (OEMs) and Perkins distributors in South America.
Located on the same campus as the Perkins engine manufacturing facility, the new RLC is stocked with more than 3,000 genuine Perkins parts, which can be delivered next day or by two-day delivery to most of the region.
Perkins Brazilian distributor MD Power was the first customer to receive their parts order from the RLC. Designed to serve local customers, any part ordered in South America at least three times over the past three years will be held in the Curitiba RLC, in addition to parts stocked to support new engine ranges being sold into the region.
"The Curitiba RLC allows Perkins customers in South America to enjoy class-leading levels of parts availability," Nick Morgan, Perkins aftermarket supply chain and operations manager said. "Importantly, we're also committed to delivering the right products at the right price across the entire customer experience life cycle."
As well as stocking individual parts, the RLC will offer new products including service kits, overhaul kits and an expanded range of replacement engines available from stock. Co-location with the Curitiba engine manufacturing facility provides access to an experienced Perkins team with local industry knowledge to continue the high levels of Perkins dedicated service, training and support in the region, the company said.
"This investment in our RLC clearly demonstrates our commitment to serving our customers in South America with genuine parts and service, reduced downtime and total cost of ownership," said Rafael Souza, Perkins regional marketing manager. "Having a wide range of Perkins parts and technical expertise so close to hand enables us and our distributors to enhance our service to OEMs and end users across the regions."
Perkins has invested in its logistics capabilities over recent years. In 2017 an RLC was opened in Kentucky, to serve the U.S. and Canada, and in 2018 a new, larger logistics center was opened in Singapore, improving the company's ability to quickly deliver parts across Asia and the Pacific region. The sites are supported by the global hub in Irlam, UK, which stores around 30,000 individual part numbers and ships over one million lines or over 16 million pieces annually.