Plans for Malta's Tigné Point submitted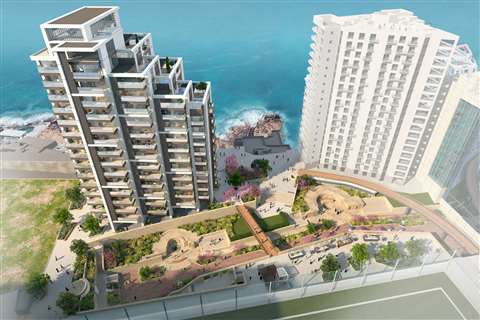 Developer MIDI and UK-based firm LOM architecture and design have submitted a planning application to the Government of Malta, for the construction of a mixed development near the country's capital, Valletta.
The application is for two main structures comprising a 16-storey residential tower and leisure, retail and office spaces that will complete the coastal area of Tigné Point, which MIDI has been developing over the past ten years.
The residential tower will provide 13,200m2 of living space and includes four levels of basement parking facilities. Designs for the building show the building has a stepped profile, which the architects said will provide apartments and penthouses with balconies and views towards Valletta and the Mediterranean Sea.
The second of the main structures will be situated on the southern edge of the Garden Battery – an artillery fort built between 1889 and 1894 – and will provide the new retail, food and office units, which it is said will compliment a nearby shopping centre.
Construction of the development will include a new public plaza with access linking it to the Garden Battery, which has recently undergone conservation works to allow public access.
Mark Portelli, CEO of MIDI, said, "This is the final phase of the Tigné Point development, transforming the former brownfield site with new homes, commercial space and public amenities."