Platform Basket custom tunnel delivery
By Euan Youdale29 October 2019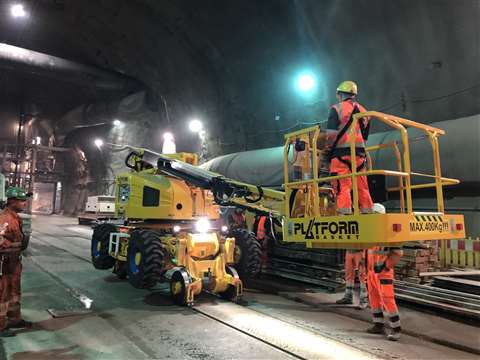 Platform Basket has delivered one of its new aerial platforms, designed for combined road and rail use, to a major tunnel drilling project in Austria.
The RR14-EVO2-EuV Tunnel Custom was supplied to the Semmering-Basistunnel (SBT) project at Fröschnitzgraben, Austria, through Kunze, the manufacturer's dealer for Germany and Austria.
With a total length of 27.3 km, the SBT links Lower Austria and Styria and is being built by Implenia-Swietelsky Tunnelbau. Railway track is being used in the 13km Fröschnitzgraben tunnel section behind the drilling equipment to supply a range of functions, including air and light.
The special RR14-EVO2-EuV Tunnel Custom model had to be lowered 400m down to the tunnel, which is being drilled from the middle to both ends, and is designed for the narrow gauge, 900mm wide tracks. The machine is equipped with the new EuV engine, with fire resistance HFDU Panolin Hydraulic oil. The 400V electric plug in the basket is connected to a ground frame inlet, while the 230V electric generator has ground and basket outlets.