Polish roadbuilders await upturn
By Sandy Guthrie27 June 2017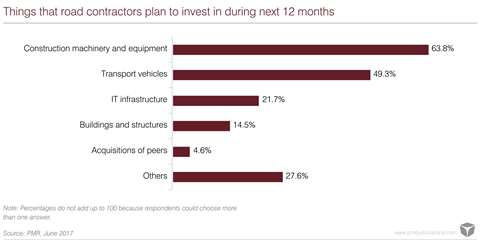 An expected recovery in Polish road construction has yet to materialise, although research firm PMR says that contractors remain moderately optimistic and are confident that an upturn will come sooner or later, both in national roads and local roads construction.
It added that the contractors were planning to invest substantial sums in their machinery fleets to prepare for it.
More than 70% of road contractors in Poland plan on making investments in their business in the next 12 months, according to a PMR survey carried out in the spring of 2017 as part of a report called Road Construction Market in Poland 2017: Market Analysis & Development Forecasts for 2017 to 2022.
PMR said that investments in construction machinery and equipment were the most mentioned option, cited by nearly two thirds of the firms surveyed. It said this was a predictable result given the nature of their business. Nearly half of road contractors also intended to invest in transport vehicles, it found.
However, there were clear differences in the level of investment intentions between small contractors of up to 50 employees, and medium-sized and large companies. PMR said significantly fewer smaller firms were planning to invest in their business than larger ones, with particularly noticeable gaps in intentions to invest in construction machinery and equipment, and in IT infrastructure.
Just 5% of the surveyed companies stated that they intended to acquire a competitor in the next 12 months.
PMR said, "Interestingly, this option was mentioned most often, not by the largest contractors but by medium-sized ones of 50 to100 employees."
The contractors intending to invest in construction machinery and equipment most often cited trucks, excavators, backhoe loaders, road rollers, and road surface spreaders as the type of machines they planned to purchase.
PMR found that the most mentioned brands were Caterpillar, MAN, Dynapac, Volvo and Mercedes. Other often cited brands included JCB, Bomag, Bosch, Hilti and Scania.
"We found notable regional differences in the types of construction machinery and equipment that contractors intend to purchase," said PMR. "Companies from the northern, north western and south western regions have the most ambitious plans to invest in lorries and excavators. Respondents from other regions were more cautious in this respect."
It said that contractors from the central region, meanwhile, planned to invest more than similar companies elsewhere in road surface spreaders, including concrete spreaders. Contractors from the eastern region plan to spend more on road rollers, asphalt graders and soil stabilisation machines.
Dividing the market by dominant customer type also showed significant differences, said PMR. Contractors which do work for community and county governments, and for private customers were found to be planning to invest more than other firms in lorries and excavators, while contractors whose main customers are the General Directorate of National Roads & Motorways (GDDKiA) and the Voivodship Road Boards planned to invest more in road surface spreaders and road rollers.