Pompidou positioning from XL
By Euan Youdale17 September 2015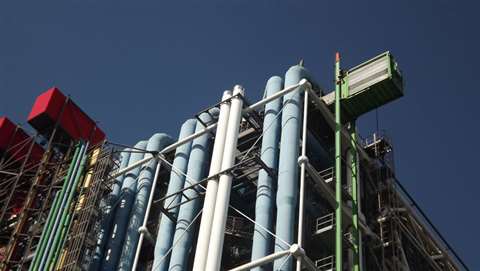 XL France installed a hoist through the architecture of the Centre Pompidou in Paris, France, to reach its roof which was being refurbished.
Project managers chose the solution of a dedicated and independent access to the roof to avoid interference with the centre's activities.
Installing and anchoring the LL 2500 hoist, to carry workers and materials, through Renzo Piano's architecture proved a challenge as it had to avoid any connection to the external structure. Ground space was limited and the only access was from the side of the building.
XL France said the LL2500 hoist was chosen for its innovative tie method and the minimal impact to the facade. The mast ties were installed through the façade and hooked up to the emergency exit.
Loading and unloading operations were made easy through a wide side opening to the hoist and its 25 cm ground clearance.
The hoist's capacity is 2500 kg and it carried out more than 40 round trips per day at 24m/min, equalling a total distance of 2000 km. The hoist was dismantled in a single day earlier this month following three years of service.