PORR to build tunnel at Munich Airport
By Andy Brown06 March 2018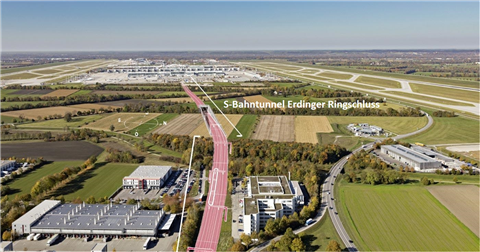 Flughafen München GmbH has charged PORR with the extension of the existing railway tunnel, which will be expanded by around 1.8 km to the east. The tender volume is around €110m.
"Our subsidiary in Germany, Stump Spezialtiefbau, will play a key role in executing the project. PORR made an impression in the tender phase with its customised solutions, thereby achieving significant savings compared to the original construction works," said Karl-Heinz Strauss, CEO of PORR AG.
The tunnel will primarily be driven using the cut-and-cover method. What makes this project special is the exceptionally tight timeline relating to the eastern area of the airfield of the satellite terminal, where around 250 m of the tunnel will be built.
Once the works on the airfield begin, there will only be a 9-month construction period for building the tunnel and fully restoring operations on the airfield.
Munich Airport's rail access currently consists of two railway lines heading west. The Erdinger Ringschluss is a 30 km-long, double-track railway line, part of which will be newly built; it is set to connect Freising and Erding via Munich Airport. The tunnel extension underneath the airport will serve as an important public transport link.