Portable power: Power on the move
By Katherine Weir15 January 2018
As well as efficiency and performance, portable power – generators, compressors and lighting towers – also improve working conditions on site and can bring down the cost of the whole project.
Advances in construction equipment technology mean that manufacturers can offer some excellent solutions to power needs, while keeping the design as lightweight as possible and easy to operate.
US-based portable power manufacturer Chicago Pneumatic, part of Atlas Copco, recently extended its range of electrically-powered light towers with the launch of two new models – the CPLT V2 LED and CPLT V3 LED. Both can be integrated with the company's CPPG inverter generator, which provides a reliable source of AC power below 3kW.
The manufacturer said this provided reliable illumination for remote worksites, giving contractors access to a cordless, lightweight and flexible solution to site lighting. The new models can also be plugged into an electric power source, such as an outlet.
It comes with four 160W LED bulbs that provide an average coverage of 2,000 to 3,000m2 depending on the model. It comes with a 5.5m manual vertical mast, a robust canopy to protect the light tower in varying weather conditions, and four wheels to provide extra stability.
The CPLT V2 and CPLT V3 LED light towers are also easy to transport, due to their compact frames, with up to 24 units fitting on a single truck.
Along with lighting towers and generators, Chicago Pneumatic also manufactures compressors. Recently, the company expanded into a new market in Jordan with several orders placed with its authorised dealer Sakkab Newport Trading (SNT) for its Red Rock range of compressors.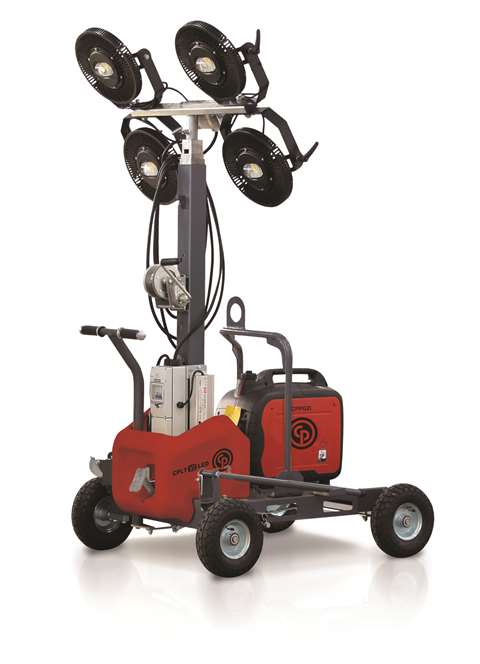 The 15 CPS 3.0 compressors are providing compressed air to maintain critical infrastructures in Jordan, including water pipelines and roads. Weighing less than 750kg, the compressors were designed with a polythene canopy that both protects the vital internal working parts from extreme conditions on site, and keeps it lightweight. They only need to be serviced every 500 hours or once per year.
Before committing to a full order, the buyer first tested out one of the machines over a period to ensure it was a good fit for their needs.
Amjad Fallatah, regional product manager for Chicago Pneumatic Construction Equipment in the Middle East, said, "Our brand is relatively new in the Jordanian market, hence we understood the client wanted to thoroughly test the compressor, and the experience of working with our distributor, before making a final decision."
Lightweight yet tough
Another compressor, this one launched in October, is the updated XATS 138 single-axle portable compressor from Atlas Copco. This machine combines the company's Pressure Adjusted through Cognitive Electronics (PACE) technology – enabling users to precisely match air flow and pressure to their specific application needs – with a HardHat polythene canopy.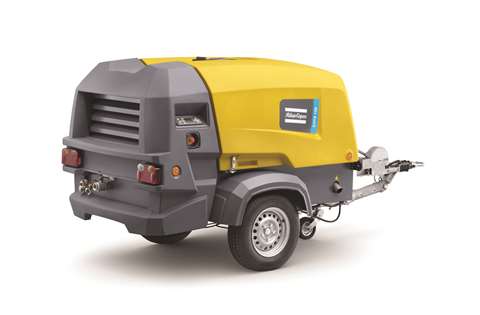 Using PACE, operating pressures can be adjusted in a matter of seconds, the manufacturer said, by increments of 0.1 bar via what was said to be an intuitive XC2003 controller. The ergonomically positioned controller facilitates diagnostics, tracks the compressor's usage and indicates planned service interventions.
Hendrik Timmermans, vice president of marketing for Atlas Copco's portable energy division, said, "The XATS 138 will now come equipped as standard with the latest and toughest HardHat design, which is corrosion-free, lightweight and crack-resistant. This, combined with its exceptional versatility, which enables it to power up to four handheld hydraulic breakers at once, means end users can realise a high return on investment."
The HardHat canopy protects the internal components and ensures good performance and appearance even in varying weather conditions. The bodywork of the XATS 138 is also protected by a three-layer corrosion resistance system, including a Zincor, primer and a powder coating.
It comes with extended service intervals – 1,000 hours or once every two years for the compressor, and 500 hours or once every year for the engine. The Kubota four-cylinder, Stage III-compliant engine comes with a DOC-DPF (diesel oxidation catalyst-diesel particulate filter) after-treatment exhaust system. Operating parameters were said to be from -20°C to more than 45°C, and the normal effective working pressure range is 7 to 10.3 bar with a flow of 5.5 to 7.0m3/min.
Also new from Atlas Copco is a range of lightweight and versatile air compressors for secure integration into utility trucks and other applications. The 8 Series Utility range was said, by the company, to have a footprint that is ten percent smaller, on average, than comparable compressors. Even with the option of a built-in generator, the models weigh less than 750kg.
Timmermans said, "Due to their small size and light weight, the 8 Series now fits into more vehicle types and can be used in applications including highway works and crash barrier repair."
The range has four compressors available in flow ranges between 3.7 and 5.4m3/min and working pressures between 7 and 12 bar. They come with a corrosion-resistant C3 rated canopy and reliable, high-performance engines, the company said.
Just like the XATS 138, this range can be fitted with the PACE system.
Going strong
Jenny Products, based in the US, is still going strong with its W11HGB-30P two-stage, gas-powered compressor with high air capacity introduced in 2012. The wheeled, portable air compressor comes with an 11HP Honda GX-Series engine with electric start, and includes a 136 litre, ASME-certified air tank with a durable powder coat.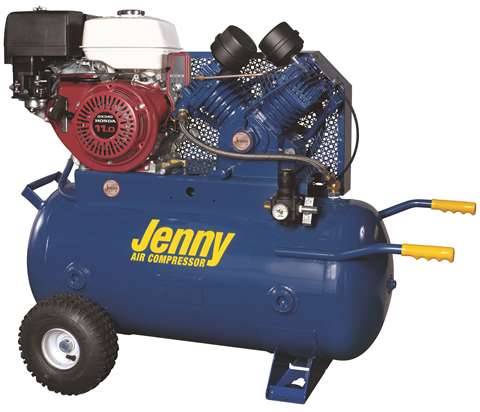 The compressor produces 594 litres per minute at 6.9 bar or 498 litres per minute at 12 bar. It was built to withstand tough operating conditions and includes several features to reduce maintenance and maximise uptime. One of those features is the Ultimate Blue compressor pump oil that offers contractor-duty protection of the pistons, crankshaft, bearings, cylinders and rings.
The company said, "The W11HGB-30P is belt driven with a large flywheel and special unloading valves for easy start-ups and extra cooling, and a directional air shroud helps further reduce pump temperatures. The unit is also equipped with a totally enclosed belt guard, protectively mounted fittings, a stainless steel braided discharge hose and a large canister intake filter with replaceable filter elements for further protection."
Two fully pneumatic tires and lifting handles were said to give easy manoeuvring and positioning.
Switching to lighting, Morris Site Machinery (MSM) launched a new trolley light in August. The compact SMC TL60 was said to be easily transportable and was developed specifically to be handled by a single operator.
The light can fit through a standard internal doorway but offers a large output, the company said. Four powerful 300W LED lights provide more than 130,000 lumens. The TL60 is available as a unit, excluding generator, or with a 2.1kVA diesel generator. Even with a generator, the trolley light is just 325kg and has retractable handles that extend to allow compact transport and storage.
It can also be operated from the mains, 110V sockets or a linked lighting process with inlet and outlet sockets. The light has a 355° mast rotation, manual winch and two extendable wind down stabilisers and one drop down stabiliser, making it the ideal compact solution for illumination, according to MSM.
Other portable power sources from MSM include the ArcGen Cobra multi-process inverter, used as a welding power source, the SMC Genpacs range of portable open-set petrol generators and the SMC Weldpac range for metal arc welding.
Finland-based manufacturer TSR Lighting created the WorkLite back in 2012 and said that the demand for this energy-efficient lamp – which was said to save more than 70% in energy – had seen it imported to 14 countries.
The company said that the lamps were so robust that they would not break if dropped from a height of 21m. The bulbs were also said to last ten years without replacement.
The WorkLite is available in power outputs of 12W, 21W, 25W and 50W and in voltages of between 110 and 230V, or extra-low 24 to 48V. It was designed specifically for construction use.
WorkLites can be chained to each other with the lamp's own connecting cable, and they are easy to move without having to switch off the light chain, the company said.
In the UK, portable power manufacturer MHM Plant launched its MG 10000 SSK-ECO 10kVA diesel generator this year. This eco model mirrors MHM's MG 10000 SSK generator but features an economical auto start/stop mode.
The new mode allows the generator to automatically start and stop accordin to power demand, meaning it can be used as and when, depending on site activity. MHM said that during an average hire period, noise disturbance and fuel consumption were reduced by approximately 25 to 50%.
The MG 10000 SSK-ECO has a Kubota diesel engine and was said to provide plenty of power to meet the demands of small generator hire.
The perfect amount of power
Choosing the right generator is essential for meeting the demands of the construction site. Too small a generator could cause delays, while too large could be under-used, especially on sites that are not running 24 hours, seven days a week.
Spain-based Himoinsa has a wide range of generator sets, including a portable power range that goes from as small as 3kVA to 10.6kVA. For larger scenarios such as emergency power in industry, hospitals and other facilities and infrastructures, Himoinsa's new HTW-2415 T5 model, with an S16R-PTAW-E Mitsubishi engine, offers 2,405kVA of Prime Power (PRP) and 2,650kVA of stand-by power, at a frequency of 50Hz.
Another new addition to the series is the HTW-790 T5, with an S6R2-A2PTAW2-5 Mitsubishi engine, which can supply up to 788kVA of PRP and 860kVA of stand-by power.
This series of generators with Mitsubishi engines now offers a power range of 670kVA to 2,650kVA.
An interesting project using three of Himoinsa's generators is Dubai Festival City. Three HTW-1745 generators in 12m containers have been working in parallel to power a light, fire and sound show every night.
When it comes to portable power, the market has many options for compressors, generators and lighting towers. The pressure for contractors to choose the right product for the job means that many are trying out one model for a period before committing to a large order. And, as with generators, finding the right size for each project is essential to achieving the best efficiency and cost savings.