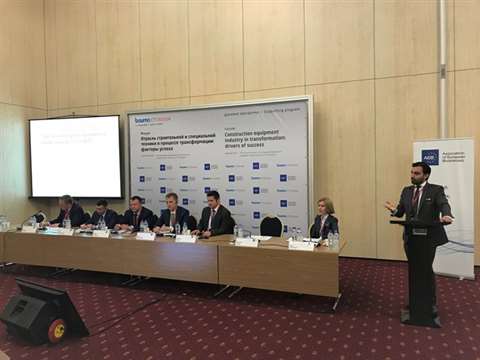 Groups representing construction equipment manufacturers in Europe are feeling positive about developments in Russia, according to reports from the Russian construction trade fair Bauma CTT Russia, which is currently taking place in the capital city of Moscow.
CECE (the Committee for European Construction Equipment), which is an exhibition partner, was represented by the committee's secretary general, Riccardo Viaggi, at a conference entitled Construction Equipment Industry in Transformation: Drivers of Success.
He spoke of the recent moderate growth seen in the Russian construction equipment market, which was supported by the stable financial situation in the country and was welcomed after what had been a long period of decline.
Growth in sales during the first quarter of 2018 gave hope of a bright future, but this was not guaranteed. Viaggi said, "We need to join forces and work together to ensure the best outcome for the construction sector in Europe."
The European construction industry was said to be facing three key challenges – rapid technological change, digital construction, and the mismatch between skills, jobs and education.
With the goal of tackling these challenges, CECE, together with other European trade associations representing construction SMEs (small and medium-sized enterprises), large contractors, and manufacturers of construction products, recently drafted and adopted a Manifesto on Digitalisation. It calls upon the European Commission to recognise the digitalisation of the construction sector as a priority of the EU's political agenda.
Viaggi emphasised the importance of effective regulation to ensure that the sector remains competitive and is able to successfully embrace the digital transformation. Collaboration along the entire construction value chain was said to be essential.
Italian exports
Unacea (the association of Italian construction machinery manufacturers) – which is hosting the Italian Pavilion at the exhibition in partnership with ITA (the Italian Trade Agency) – reported that a recovery had been seen in the export of Italian construction equipment to Russia.
Although still far from the levels reached in 2012, when the Italian construction equipment sector was exporting nearly €200 million worth of equipment to Russia, international trade with the country did begin to grow again in 2017, reaching €74 million. This represents an increase of 47% compared to 2016.
The first two months of 2018 appeared to confirm that growth trend, with the export of construction equipment to Russia reaching €15 million in January and February – up 267% on the equivalent period in previous year.
With regard to helping Italian companies approach the Russian market, Paolo Venturi, president of Unacea, said, "The collaboration with ITA – the Italian Trade Agency – is fundamental. The management of a shared promotional program of trade fairs, able to reduce costs for participating companies, is an essential instrument to promote our sector at a global level."