Positive vibes in Europe
By Thomas Allen25 July 2017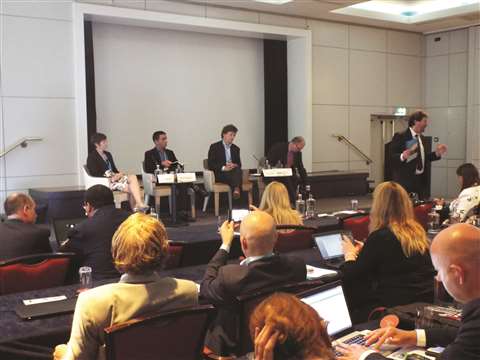 The general message from the 83rd Euroconstruct conference in Amsterdam was that the markets were on the up, with total European construction output expanding by 2.5% in 2016 – 0.5% stronger than was expected six months ago, at the previous conference.
This was said to have been boosted by macroeconomic factors, with the European economy as a whole showing signs of recovery.
Europe had apparently been set on a moderate growth path by relatively low oil prices, a weakened Euro exchange rate and the European Bank's stimulus policy.
For the 19 Euroconstruct countries, GDP growth was projected to be between 1.5 and 2% per annum in the period from 2017 to 2019.
Also, investment was appearing to pick up, particularly since households and companies were still able to secure inexpensive financing and foreign demand was developing favourably.
For the construction industry specifically, these conditions have encouraged an upward revision of the forecasts made at the Barcelona conference, with output expected to increase by 2.9% this year – as opposed to the 2.1% originally predicted – and by 2.4% in 2018 – compared to the figure of 2.2% given six months ago.
So, across the period between 2016 and 2018, output in the construction industry was expected to grow by 8%, which was higher than the 6.5% forecast in Barcelona.
In 2019, however, the upturn was expected to moderate to 2% – slightly below the previous forecast of 2.1%.
Drilling down to the main segments, while residential construction expanded by 5% in 2016, this growth was expected to become progressively weaker in the coming years, with rates of 3.7% predicted for 2017, 2.3% for 2018 and 1.7% for 2019.
This sector was believed to have been boosted by demographic trends, an increase in household income and low mortgage rates.
New residential construction in particular expanded by 8.8% in 2016 and was forecast to grow by a further 6.8% in 2017. However, it was said that this would slow significantly in 2018 and 2019.
Residential renovation and maintenance, on the other hand, appeared to be fairly steady, with a growth rate of about 1.5% per annum.
In fact, it was said to be on target to be the first sector where output would not only reach but exceed pre-crisis levels, which was projected to happen this year.
Turning to non-residential construction, modest growth was forecast, with 2.3% predicted for 2017, 1.8% for 2018 and 1.2% for 2019.
New construction began to recover only last year – later than the other sectors – with a growth figure of 2.5%. Further growth of 2.8% was projected for 2017, before falling to 1.9% in 2018 and 1.0% in 2019. It was noted that, considering the extent of the losses in this sector during the crisis, these growth rates were modest.
Expansion in the sector was said to have been hindered in many countries by unfavourable conditions for external investment and the state of public finances.
Lagging behind
Subsectors where public financing played an important role were said to be lagging behind other sectors, with the average growth rate for the construction of educational buildings standing at 1%, and that of miscellaneous buildings at 1.4% between 2017 and 2019.
Interestingly, though, the highest growth rates in coming years – 3% per annum on average – were expected to be reached in the construction of health buildings, which is a sector that relies heavily on public investment.
For subsectors of new construction primarily funded by private investment, an average per annum growth rate of 2% was predicted.
Non-residential renovation and maintenance was set to expand by around 1.5% each year.
With civil engineering, the sector was expected to start growing again, after a contraction of 1.8% in 2016. The forecast suggested a 2% rise for 2016 and a 3.6% rise in both 2018 and 2019.
In the Western European region, growth rates in this sector were forecast to be 0.5% lower than in the Euroconstruct area as a whole, while in Central and Eastern European countries, civil engineering was expected to expand at a forceful 10% per annum on average over the forecast period, largely due to the implementation of a new round of EU structural funds.
Accleration
An acceleration of growth in 2018 and 2019, compared to 2017, was predicted largely as a result of improving dynamics between Spain and the UK.
Of all civil engineering subsectors, road construction was set to be the most dynamic in the coming years, growing by an average of 5% per annum.
As a whole, the growth predicted to take place in civil engineering was said to be facilitated by the condition of the infrastructure network, EU, national and regional funds, macroeconomic growth, and environmental protection goals.
However, budget imbalances in a number of countries, along with general financing conditions, were said to prevent the sector from growing more strongly.
In terms of individual Euroconstruct countries, Hungary was predicted to outstrip the others in the period between 2017 and 2019, with construction activity set to grow by 14.9% per year on average.
It was also thought that Ireland would be a strong performer, with projected growth of 7.7% in the coming years. However, this actually represents a drop from the 10% yearly growth it experienced between 2014 and 2016. It should also be noted that Ireland was recovering from a very deep fall in output after the crisis and so it was predicted that output in 2019 would still be 60% below the pre-crisis level.
Similarly, Portugal's construction output in 2019 was expected to lie 40% below its pre-crisis level – despite strong predicted average annual growth of 4.1% between 2017 and 2019 – since it was also recovering from a very big drop.
Other good performers included Poland and the Czech Republic, with an average annual growth rate of 5.5% predicted for Poland and 4.3% for the Czech Republic, between 2017 and 2019.
After suffering a significant drop in 2016, strong growth was expected in Central and Eastern European countries, driven by a new round of EU structural funds in combination with strong demand for housing and, in Hungary, new government measures stimulating new residential construction.
However, it was noted at the conference that in the aftermath of a financial crisis, these growth figures did not necessarily give a correct impression of the health of an individual construction market. Instead, it was more accurate to look at a combination of a country's current performance relative to its historic levels and its future growth prospects.
Taking this approach, three alternative leading performers could be picked out – Poland, Norway and Sweden.
Output in these countries in 2016 was around 20% above the pre-crisis level, and was expected to increase strongly in the years ahead – on average, 5.5% in Poland, 3.9% in Norway and 3.5% in Sweden.
Other countries with output above or close to pre-crisis levels – such as Germany and Switzerland – were showing average growth rates of 2% at most.
All countries that still had catching up to do – such as Spain and Italy – were expected to expand by more than 2% per year, but none of them would reach pre-crisis levels in the coming three years.
Circular economy
At the end of the conference, a panel chaired by Taco van Hoek, director of the European Investment Bank, discussed circular economy policies.
The speakers comprised of Fulvia Raffaelli, head of clean technologies and products, directorate-general for internal market, industry, entrepreneurship and small- and medium-sized enterprises of the European Commission, Nitesh Magdani, group director for sustainability at Royal Bam Group, Ferdi Licher, director of building and energy for the ministry of the interior and kingdom relations of the Netherlands, and Roger Steens, director of sustainability at Tata Steel.
Key points from the discussion included the need to agree upon a common understanding of what was to be achieved with a circular economy. Steens emphasised the fact that the focus needed to be shifted away from the quantity of material being used in the first place to the quantity of material that would be wasted rather than recycled.
An important part of this was said to be education. Magdani said that, often, clients of Bam did not take full advantage of buildings that had been designed with circularity in mind, and the solution was to ensure that the clients were fully informed and encouraged to make use of those assets by recycling materials upon demolition.
It was suggested that economic incentive could provide the necessary encouragement. This, it was said, called for a revolution in the construction sector. According to Steens, government needed to provide direction in order that innovations in sustainable construction could be scaled up.