Potain MCH 125 lifts in Thailand
By Christian Shelton15 August 2018
Bangkok, Thailand-based construction company Thai Obayashi is using a Potain MCH 125 luffing jib tower crane for lifting duties on the Samyan Mitrtown mixed-use development in Bangkok. According to the crane's manufacturer, Manitowoc, it is the first MCH 125 in Thailand and it has been leased from local dealer SB Siam.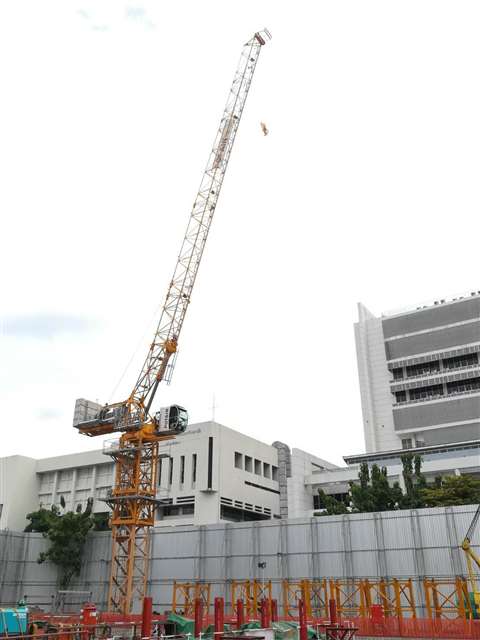 Thai Obayashi is using the crane to lift a range of materials, including three tonne concrete blocks and a five tonne transformer. It started work at a height of 51.4 metres, with a 40 m jib. The final working height for the crane will be 144.4 m when construction ends in May 2019. Capacity is eight tonnes and it lifts two tonnes at its maximum jib length of 50 m.
According to Manitowoc, the MCH 125 is Potain's first hydraulic flat top luffing jib crane. It uses what the company calls VVH hydraulic luffing technology to raise and lower the jib. This moves the jib from horizontal to 87 degrees in under two minutes. The design also eliminates the need for luffing ropes which, Manitowoc said, saves on assembly time. To further reduce on-site assembly time, Manitowoc said the crane's hydraulics are pre-connected at the factory.
"The MCH 125 is perfect for this project and Bangkok in general, as it has the technology and design to assemble quickly and operate easily on congested sites," said Julapong Janpengpen, construction manager at main contractor Thai Obayashi. "Its cutting-edge design means the jib can always be kept within boundaries. This is one of the major reasons we chose it."
Samyan Mitrtown is being built by Golden Land Property Development and will cover 222,000 square metres. The development includes six floors of retail space, 31 floors of office space and 33 floors of residential space.