Potain towers build Alvear Tower
By Laura Hatton07 August 2015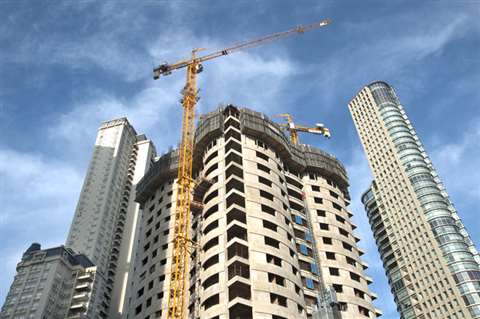 Tecno Dealer, Argentina's Potain distributor and tower crane rental company, is using two Potain MC 205 B tower cranes to help build the Alvear Tower in Buenos Aires.
The main contractor for the project is Buenos Aires-based contractor CRIBA. The mixed-use development is being built next to the River Plate and is expected to cost US$130 million. The 235 metre tower will be the tallest building in Argentina, a spokesperson said.
The two 10 tonne capacity MC 205 Bs are positioned to operate simultaneously. One crane is installed outside the building using 2 m mast sections and will have a final height of 260 m. The second crane is configured for floor climbing inside the building, moving up as each floor is built, a spokesperson added.
Both cranes have been configured with 60 m jibs and can achieve line speeds approaching 117 m per minute. They can be used with either two-fall or four-fall reeving and are suitable for high-rise buildings more than 200 metres tall, the manufacturer said.
Gustavo Costa, Tecno Dealer owner and president, said, "Operating at greater heights by the day, the line speeds of the Potain cranes are helping the contractor guarantee the project stays on schedule. The cranes have been working up to 12 hours a day, installing rebar, formwork and machinery to assist in concrete pouring."
Once the build is complete, the MC 205 B installed outside the building will be used to dismantle the second unit.
The project is due to be complete by December 2015.