Potain towers on multimillion dollar dam
By Laura Hatton22 July 2014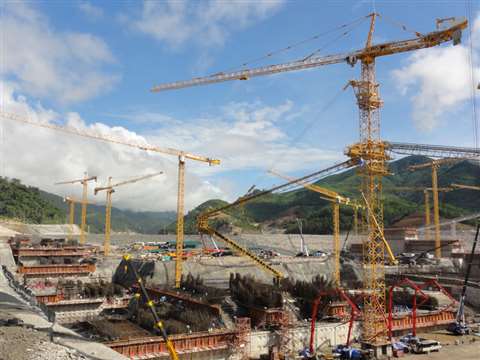 Nineteen Potain tower cranes have been put to work on the US$3.8 billion Xayaburi dam project in northern Laos.
The 1,285 MW dam, which is owned by Xayaburi Power Company Ltd, is being built across the Mekong River. It will measure 820 metres long, 150 m wide and 35 m high.
The main contractor for the project is CH Karnchang PCL. Cranes on site include two Potain MD 1600s, two MC 205s, four MCT 385s and 11 MC 310s. All 19 tower cranes were supplied by Potain dealer by SB Siam, based in Thailand.
Tasks for the 64 tonne capacity Potain MD 1600 towers include placing 250 cubic metres of concrete per hour. The cranes have been configured with full 80 m jibs and have a height under hook of 92 m. In addition, the cranes have been fitted with a top-belt concrete placing system, which extends 25 m beyond the jib end, allowing the cranes to pour up to 600 tonnes of concrete per hour at a radius of up to 105 m, the manufacturer said. The system was created by Manitowoc and Nippon Conveyor.
Work for the MC 205s, MCT 385s and MC 310s include pouring conventional vibrated concrete and lifting general construction materials, including formwork and rebar.
Thamnoon Surarat, project manager at main contractor CH Karnchang PCL, said, "Potain provided the best solution for us and the company's Lifting Solution department has a wealth of experience in successful dam construction that gave us confidence that our own project will be a success. Manitowoc's Lifting Solution department and Potain's dealer, S.B. Siam, worked closely with us to design, implement and maintain a unique set-up that will work consistently in harsh and humid conditions with tight deadlines and a demanding work schedule. Everything is moving ahead as planned and we are delighted with the cranes."
The Potain cranes were erected between March and August 2012 and will remain on site for eight years, working 24 hours a day, seven days a week, a company spokesperson said. The dam is scheduled to go into operation in 2019. It is expected to produce 7,400 GW per hour for the power grid system in Laos and Thailand.