Power tools: Instrumental
By Thomas Allen18 August 2020
Developments in battery technology are filtering through to power tools. This is illustrated by Makita's latest range of cordless XGT 40V Max tools, which have lithium-ion batteries.
Standing alongside the company's existing LXT range, the new line-up offers increased output.
Kevin Brannigan, Marketing Manager at Makita, said, "With XGT, you can experience the same high power associated with corded and petrol machines, but with the increased flexibility of cordless – making XGT the ideal solution for high demand, industrial applications.
"The complete solution of our existing LXT 18V system and the new XGT 40V platform offers even more battery-powered solutions for a truly cordless job site."
Trade-off
When a higher voltage battery is used, there is a trade-off between power and run-time. So in this instance, Makita's research and development team has kept the voltage the same but improved the design of the tools, incorporating technologies that optimise their performance.
The tools have also been engineered with durable design features to minimise damage and withstand tough environments.
They have a heavy-duty outer casting and cell holder, and the shock-absorbent housing protects the battery if the tool is dropped.
Each battery is also IPX4 rated, which means that it is splash and shower proof, and water ingress is limited. The design also prevents damage from dust.
Optimising performance
To optimise battery performance and charge times, the XGT range features Makita's smart system technology. This in-built programme allows digital communication between the battery and the charger, as well as the battery and the tool, to provide protection against issues such over discharge and overheating.
So, for example, if the battery has overheated, the charger will cool it down before charging begins, to speed up the charging process.
Fast charging
To charge the batteries, Makita has launched the DC40RA 40V Max fast charger.
The XGT range includes combi drills, grinders, rotary hammers, impact drivers, circular saws and reciprocating saws.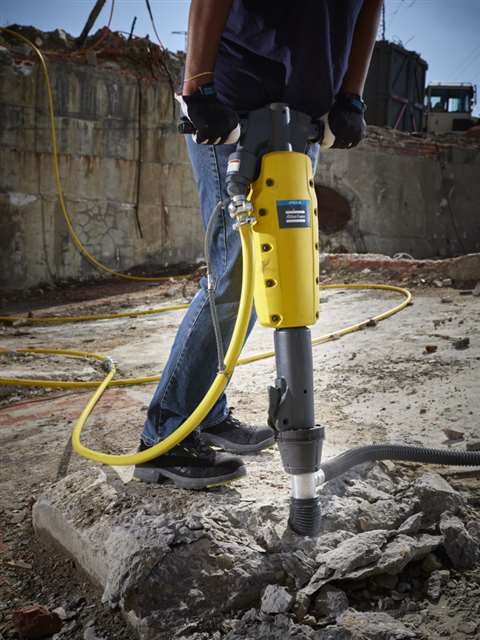 Atlas Copco has added two new models to its RTEX pneumatic breaker range.
These are the RTEX 15, weighing 17kg and a variant of RTEX 25 that enables working with a shorter chisel.
Advanced breaker
The manufacturer says the RTEX 15 is an advanced breaker that covers the entire functionality of TEX 150PE and TEX 190PE 15 to 25kg light pneumatic breakers.
The air consumption of RTEX 15 is reduced from 26 litres per second to 15.4 litres per second and has a weight reduction of 25% compared to the heaviest in class.
RTEX 25 is a powerful breaker that can replace functionality of medium breakers between 25 to 37kg. Air consumption in RTEX 25 is halved to 18 litres per second and weight is reduced by up to 30%. More variants are planned.
RTEX breakers are used to demolish and fragment concrete and are employed on civil construction sites by civil contractors and equipment rental companies.
Post driver
The Multi-Pro XA post driver from US-based manufacturer Rhino Tools offers a safer way to drive posts into the ground, and it is now available in Europe.
The unit contains a hammer and anvil system that strikes the post at approximately 1,750 beats per minute.
The compact, portable tool is powered by a 1.3hp Honda GX35 4-stroke petrol engine and is suitable for a range of posts, making it a versatile piece of equipment.
Cleaner engine
Being powered by a 4-stroke rather than 2-stroke engine makes it cleaner, and its vibration-reducing handles help to make it more comfortable to use.
EuroGate International recently partnered with Rhino Tool to acquire the necessary CE-approval for the post driver and serve as its distributor in Europe.
Pieter Jansen, Director of EuroGate, said, "We have worked with Rhino Tool Company to develop custom adapters to fit the post dimensions specific to the European market. The Multi-Pro XA has adapters that can be changed to install all kinds of metal and wood posts."
Extension handles can be added to the Multi-Pro XA to enable the user to drive posts up to 3m without needed to climb a ladder.
Comfortable grinding
US-based Norton has introduced a range of light comfort grinding (LCG) discs for multiple applications.
Said to be faster, smoother and more precise than their 7mm counterparts, these 3mm lightweight discs offer easier access to tight spaces and better visibility when in use.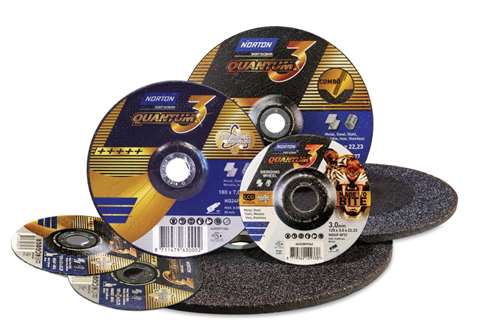 The new grinding discs remove light welds, burrs and excess material quickly and effectively, according to Norton, while the user experience is made more comfortable by the reduced vibration.
Due to their enhanced performance, less pressure needs to be applied during use, meaning operator fatigue is minimised and product lifespan is increased.
When used on a cordless angle grinder, Quantum3 LCG discs can remove up to 40% more material than traditional 7mm aluminium oxide grinding discs during one battery charge, says Norton.
Husqvarna weathers peak of pandemic
Swedish manufacturer Husqvarna has reported a solid second quarter of 2020, despite the impact of Covid-19.
The company's President and CEO Henric Andersson said, "We have delivered a very good quarter. After a challenging start, given the Covid-19 situation, demand accelerated quickly as markets gradually reopened and consumers showed a high interest in lawn and garden products."
He added, "We have experienced an extreme volatility during the quarter, from quickly deteriorating demand to a surge in demand. We have also taken decisive steps to mitigate the financial impact by applying temporary cost avoidance measures which were instrumental to deliver the second quarter result.
"We will now gradually increase our investments in some of the earlier paused strategic initiatives to support future profitable growth."
When adjusted for the exit of Husqvarna's Consumer Brands business and changes in exchange rates, net sales increased by 3% to SEK13.5 billion (€1.3 billion).
Andersson said, "The market situation for the Construction Division strengthened during the latter part of the quarter, but in total sales declined by 18%."
The company's operating income in the second quarter came to SEK2.2 billion (€211 million).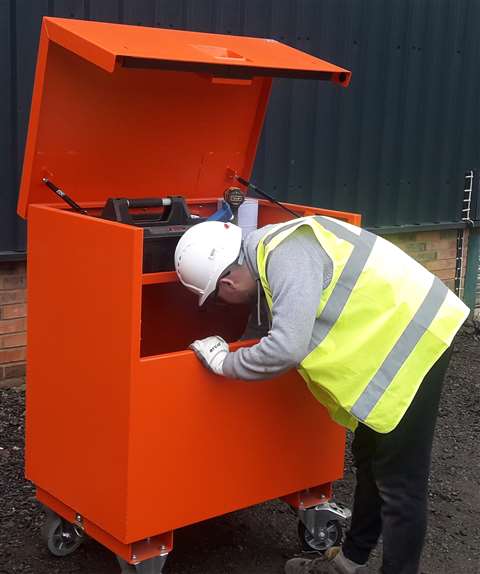 Keeping tools safe
Since tools are easily portable, they are particularly vulnerable to theft. According to UK-based Metal and Modular, the cost of tool theft in the UK is estimated at almost £95 million each year.
For this reason, the company offers tool vaults for keeping tools safe on site, when not in use.
The tool vaults come in three sizes – small, medium and large – and are made of heavy-duty steel.
The small model is available with two keyed-alike sunken brass padlocks or two stainless steel 6-pin ultra-secure cylinder locks, while the medium and large versions feature a five-lever deadlock.
They are all fitted with fixed and castor wheels, a foot brake and forklift slots for easy manoeuvring.
The lids have gas springs to ensure they don't drop down when the unit is open, avoiding the risk of fingers getting trapped.
The units also have an opening for cables so that tools and mobile phones can be charged securely while the vault is locked.